The world has never been more connected than it is right now. The revolution in digital communications, the development of efficient and reliable transport, and the growth of global trade and industry have all created ways of living and working that were unimaginable even a generation ago.
But these close ties also mean that our nation's economy – and our daily lives – can be directly affected by international events in surprising ways. Unfortunately, we now have some obvious recent events to illustrate the point.
In 2018, the UK received 1.5 per cent of its Construction goods and services from Russia. The supply chain had weakened under the strain of coronavirus, and that, in one example, had ensured Russian birch ply was already on its way to becoming phenomenally expensive. Birch ply is now only one item on a long list of other Russian exports the construction industry relies on – most notably oil and natural gas.
Material Price Indices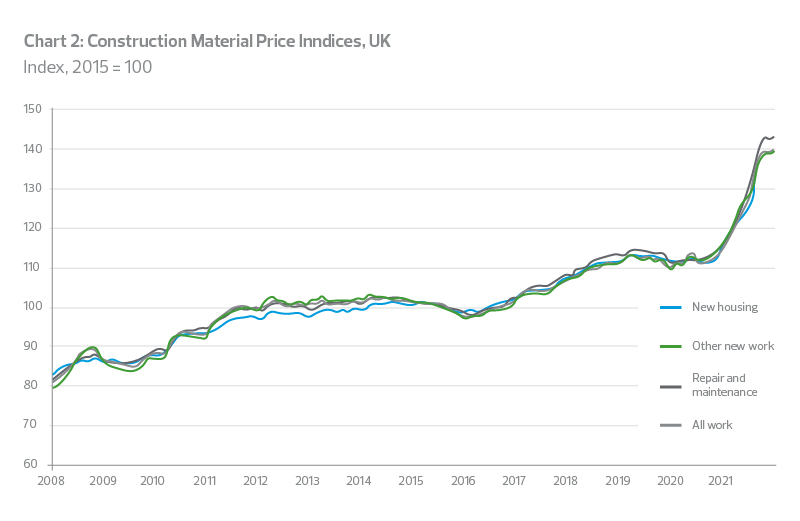 Source: Monthly Statistics of Building Materials and Components, Table 1.
The pandemic had led to a hoarding of microchips but those stockpiles will run out at some point, with implications for those involved in the creation and development of smart cities. Microchips are essential to construction businesses that are using and developing innovative building methods, such as drones and building information modelling (BIM). Coupled with soaring oil prices, this bolsters the case for designing greener cities that are focused on people and better public transport, thereby decreasing our reliance on natural resources.
We will never be able to stop consuming natural resources entirely, but the rapid development of autonomous vehicle technology will eventually take more cars off the road. For civil engineers and constructors, this means the way towns and cities are designed and built will start changing within the next five years. We should be planning for the number of car parks needed in urban areas to dwindle, for example, which could give way to green spaces for the community.
Modular builds and more modern methods of construction could also help to ease pressures on the supply chain. We're anticipating growing shortages of materials like metal, gypsum and plasterboard so alternative sources and materials should be prioritised, particularly in light of Britain's changing relationships with its European trading partners.
Imports of construction materials increased by £532 million in Q3 2021 compared to the previous quarter, an increase of 10.7 per cent. However, to some degree, Britain is moving towards greater self-reliance as a result. Liberty Steel has announced plans to reopen two of its steel plants in South Yorkshire, for example. Even so, subcontractors should be braced for tough times ahead as materials become hard to come by and prices increase accordingly.
Subcontractors and smaller companies will also be targeted by larger firms looking for vertical integration opportunities – a trend we saw grow during the pandemic. Smaller players may see becoming part of a bigger firm as an attractive alternative to paying a premium for access to their storerooms.
These are important considerations because material price increases are here to stay, and smaller construction businesses need to prepare for this 'new normal'. This includes a focus on continuous improvement and investing in site-specific training.
The Government Construction Strategy recommended three different procurement routes to improve the supply chain management (SCM) process; private finance initiative (PFI), prime contracting, and design and build. It also recommended that clients use a single integrated supply team. Nevertheless, multi-sourcing suppliers, particularly for stock of certain products with volatile price patterns, is still a vital measure to protect against supply issues.