Sharing our purpose and how we do what we do
At RSM, we believe how we do what we do is as important as what we do. In every relationship, internal and external, and across every touchpoint with stakeholders and clients, we strive for excellence. This is an essential part of our purpose and culture. We want all our people to understand what it means to be both valued by, and valuable to, our clients.
We know that great systems and processes don't create excellence on their own, although they have a part to play. It's our exceptional people that are famous for delivering data driven solutions that create lasting value.
We want to instil confidence in our clients to make decisions about their future. We want to be the leading provider of professional services – in the UK and around the globe.
To get there, we must consistently deliver premium-quality audit, tax and consulting services.
Our conduct and culture statement sets out how we expect all our people and contractors, to bring our purpose and values to life in word and action, wherever they are.
Alongside our supplier code of conduct, these documents help ensure all our stakeholders uphold the high standards to which we hold ourselves.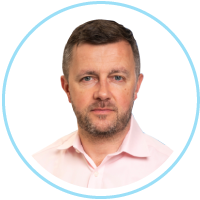 Robert Donaldson, Chief Executive Officer
How we do what we do

What makes us, us

Our values
How we do what we do

We always strive to act ethically and honestly because the success of our business depends on the trust of our clients and colleagues. We earn their trust by providing high quality work, delivering exceptional client service, and doing the right thing.
Premium client experience
We aim to deliver excellence in every aspect of what we do. It is a central pillar of our strategy. Our clients can rely on us to be courteous and professional in all communications. We have robust processes to ensure clients enjoy excellent service and receive the right advice and support to overcome challenges and achieve their ambitions.
To encourage open and honest communication, we provide clients with many ways to engage with us, including a bespoke client engagement platform. Premium experiences are not just about communication but about maintaining a reliable level of technical quality throughout everything we do. In all aspects of our work, we aim to not just be consistently good – but consistently excellent.
Open and honest communication
We want all our relationships to be characterised by transparency and trust. So, we are careful to avoid conflicts of interest and relationships that impair (or appear to impair) our objectivity and independence. If we identify a potential conflict, we evaluate the situation carefully and take steps to protect the interests of the parties involved.
Effective communication is an important part of our efforts to be transparent. We encourage our clients to communicate openly and honestly with us about our services. In return, we report regularly and charge honestly.
This focus on openness is also reflected in our communication and engagement with our team members. Our leadership team ensures our people are kept informed, with regular business updates across service lines and regions, quarterly leadership broadcasts with partners and our people, and all-staff events where questions are encouraged. We launched our 'Talk to the Top' programme to give junior staff members the opportunity to share feedback and ideas with our senior leadership team. We participate in the Best Companies employee engagement survey and the 2023 results confirm we remain a two-star 'outstanding' employer.
RSM seeks to conduct its affairs responsibly, considering legal, professional and regulatory requirements and social responsibility. Where an individual discovers information showing malpractice within RSM's business, this information should be disclosed without fear of reprisal. A 'Speak Up Hotline' is available to employees who may feel unable to report this matter to their line manager or other internal individual.
Digitally enabled
We help our clients drive digital transformation within their organisations. We are also working to become digitally enabled in our own work by streamlining and updating our digital platforms to introduce modern, joined-up systems. Everyone is encouraged to participate in digital learning opportunities as we strive to embed advanced data skills throughout our business. By combining digital and data skills with our formidable technical expertise, we aim to provide seamless digital experiences for our clients and our people.
Rigorous data protection
Cybersecurity is a crucial priority for RSM. Protecting the confidentiality of our clients' information and data is of paramount importance. We are audited and certified to ISO 27001 and Cyber Essentials Plus. We protect against data loss or security breach through continued investment in advanced cybersecurity technology and skills. Our people are trained regularly on information security matters, and we run simulations to raise awareness of emerging cybersecurity risks. We make sure we have the right systems, training and processes in place to protect our people and our clients.
What makes us, us

We're a people business. Expertise is the product we sell, so our people are crucial to everything we do. That's why we insist on the highest standards of professional ethics from them. Our longstanding reputation for integrity, objectivity and professional behaviour is why clients place their trust in us. And we are all responsible for living and breathing RSM's values.
While many companies talk about people being at their heart, we invested to make it a reality. We have made RSM a great place to work, where everyone can thrive. Working together to deliver great outcomes for clients is an essential part of our outstanding employee experience and is one of the reasons we have maintained our 'outstanding employer' rating according to the Best Companies survey.
Supporting our people to thrive
We work hard to protect, reward and develop our team members, and empower them to build long and fulfilling careers at RSM. Our collaborative and inclusive culture is reflected in every aspect of our talent programme, from recruitment and onboarding, through to director and partner development.
Developing internal talent is a priority for RSM and our 'Grow Our Own' programme is a core pillar of our business strategy. We offer structured programmes that enable our people to steer their career at every level of seniority. As part of our onboarding process, our people are often matched with a buddy in the firm. We offer a mentor programme to support talent development and have run several reverse mentoring initiatives, which provide deep insight into challenges and opportunities faced by people throughout the organisation.
Our early careers programme is a point of pride for RSM. This year we expect over 800 individuals starting out in their career. We offer them fair and attractive remuneration packages and a structured programme to support their career development and help them achieve professional qualifications. We were ranked eighth in the Department of Education's top apprenticeship employers for 2022 and were thrilled to win the AAT Social Impact Award for 2023 for our work to 'drive social mobility' by facilitating access to the accountancy profession.
We take a proactive approach to health and wellbeing at RSM, helping our people to look after their physical, psychological, social and financial health. Our people are encouraged to take part in a programme of wellbeing events throughout the year. We have a dedicated national wellbeing team and have trained over 200 wellbeing ambassadors, with at least one based in every office to ensure a safe and healthy working environment. They are also trained Mental Health First Aid Champions, should any of our people need additional support.
For more information about how we nurture our people, please refer to the 'People' section of our Impact Statement.
Promoting diversity and inclusion at RSM is a priority for us because we believe each employee should be able to bring their true self to work and feel a sense of belonging. We've recognised that we make better business decisions, and do better business overall, as a diverse organisation. We believe it's everyone's responsibility to promote diversity and inclusion at RSM and we're supporting our people and leaders to challenge unconscious bias and drive diversity throughout the organisation. We have worked hard to improve our gender balance across the firm and increase our diversity and inclusion with respect to ethnicity, faith, LGBTQ+, disability, neurodiversity and family.
Our goal is to enable talented individuals to thrive irrespective of any identity or socio-economic background. This will help to promote social mobility and tackle economic inequality. We monitor our gender and ethnicity pay gaps and report our results regularly. You can read more about our efforts in our Diversity Pay Gap Report.
Making a difference
We recognise our responsibility to support a successful and sustainable society. We want to strengthen the communities where we live and work, so we donate our time, resources and skills to a range of charitable causes. The RSM UK Foundation was established in 2018 to partner with national and local charities whose values align with our own. To date, the Foundation has provided £3m of much needed funding. You can read more about the impact of the RSM UK Foundation here.
In 2022, we launched our volunteering programme, enabling our people to volunteer within their local community. From cleaning up our beaches and canals to book reading with local schools, we are keen to provide opportunities to give something back through locally focused activity.
We believe protecting the planet is not just the right thing to do – it's a moral imperative. Our local offices are encouraged to protect natural resources and the environment, and in 2021 we announced our pledge to achieve net zero carbon by 2030. We also expect our suppliers to adhere to sustainable practices, with our main partners signing up to our Supplier Code of Conduct. More information on our efforts to protect the planet is included in our Impact Statement.
Our values

Our values reflect our commitment to the highest standards of personal and professional conduct. They are more than just words; they define our culture and the way we do business.
Respect and uncompromising integrity
Being considerate towards others. We show respect in each interaction with our clients, colleagues and stakeholders. We believe everyone should feel empowered to bring their authentic self to work and feel a sense of belonging at RSM. We ask staff members to always treat each other with respect and expect our clients and suppliers to do the same. Acting ethically and honestly. We stay true to our values in our decisions, commitments and communications. We show integrity in everything we do and have zero tolerance for corruption because we believe this is the cornerstone of the accounting profession.
Additional resources:
Succeeding together
Working collaboratively and transparently. We cultivate genuine inclusivity, individuality and collaboration within our business, in our community and across borders. By working across functions within the UK, and alongside our global network partners, we can bring to bear the full strength of the RSM Group building strong relationships for the benefit of our clients.
Excellence in all we do
Being the best in everything we do. We achieve distinction through the quality of our work, standards and operations. Our excellence is a hallmark of the premium service we offer to clients.
Impactful innovation
We welcome change and put insight and technology to work, making a real difference for our clients and our people.
Acting responsibly
Delivering better results for our clients, people, shareholders and the community. We build a better future by developing our people, promoting diversity, building our brand and supporting our communities and the planet.
Additional resources:
Our values are supported by a range of internal policies and guidelines that help our people make the right decisions – and which we expect them to adhere to at all times. These include:
Anti-Corruption Policy
Gifts & Hospitality Policy
Data Privacy & Confidentiality Policy
Anti-Money Laundering Policy
Sanctions Policy
Financial Interests Policy
Conflicts of Interest Policy
Who to contact
Thank you for your interest in RSM UK. It is important to us that our people, partners, suppliers and clients uphold the standards we have set out in our conduct and culture statement. If you have any concerns about behaviour that doesn't align with our conduct and culture statement, we want to know.
Employees can speak to their line manager or Partner, or report issues anonymously via our whistleblowing service. Anybody can report concerns to our Head of Risk by emailing risk@rsmuk.com.