UK retail sales in July defy the lowest GfK consumer confidence reading on record. But when sales catch up with confidence, how can retailers maintain market share?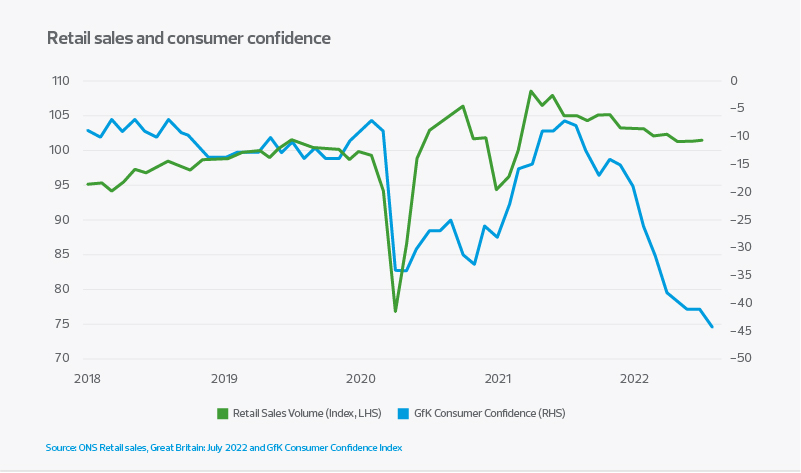 Consumers being hit hard
The latest Consumer Prices Index showed that inflation hit double digits for the first time since the early 1980s in July, at 10.1%. But that won't be the end of it. In October inflation is expected to reach at least 13% and with the huge surge in wholesale prices it's likely there will be another rise in the energy price cap in January, sending inflation to a peak of 15%. Aggravating this financial pressure, consumers are seeing real pay eroded as the rising cost of goods and housing take their toll.
With total real-terms pay falling on the year, at 2.5% from April to June 2022, a larger fall hasn't been seen since February to April 2009, following the global crash of 2008.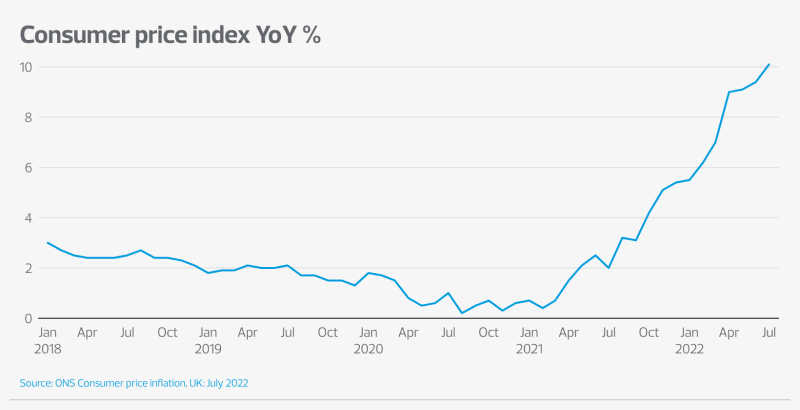 Input costs take their toll
Retailers are facing unprecedented trading conditions. Rising costs in the wake of the pandemic and now the war in Ukraine are creating significant input cost increases, such as raw materials and fuel prices.
Making things worse, vacancies and earnings across retail – while beginning to ease – continue on an upward trajectory. Vacancies across the sector are up 25% in Q2 this year compared to 2019, and earnings are up 14% for the same period. Staff turnover continues to be high, while training costs and timeframes are bringing overall productivity down.
High inflation also means sales are down in real terms, and mounting costs continue to squeeze profit margins.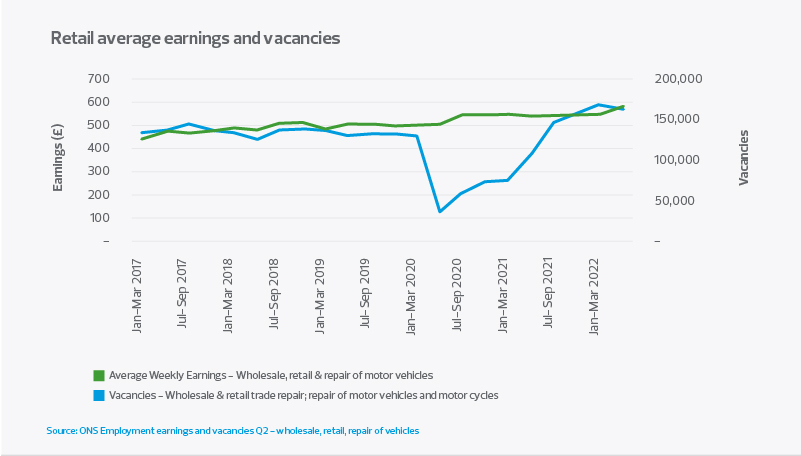 In an environment where both retailers and their customers are feeling the pain, business leaders must focus on cutting their cloth accordingly and understanding the customer's needs. Here are our top tips for protecting business assets and weathering the storm.
Data is your strength
Ten years ago, reviewing weekly store, online and product sales analysis might have been the baseline for some retailers. But as the rise of omni-channel shopping continues, fully understanding the intersection between store and online sales has become increasingly important.
Harnessing customer data is a lever many retailers will need to pull as they navigate supply and demand. The rise of direct-to-consumer over recent years is perhaps the greatest example of change we're seeing, as it's where companies can gather more granular data on their end customers. Such models allow businesses to:


understand elasticity better;
see in real-time how price changes affect demand; and
make better overall decisions.
The most sophisticated example of this can be seen with Chinese ultra-fast fashion brand Shein. Shein has grown exponentially in recent years by using both its own customer data and external data to predict customer buying patterns.


The pure play retailer's product output can change almost in real-time to match what its algorithms predict will be in demand, based on tracking online behaviours of consumers. This might include tracking which other clothing brands and individual garments consumers are looking at, holidays searched for, and likes and interests on social media.
Much like Shein, purchasing third-party data is an avenue retailers can explore to help predict trends and plan accordingly. Using external data sources alongside internal sources can be a powerful tool to:
investigate revenue leakage;
analyse customer behaviour;
measure product profitability; and
improve supply chains.
In the right hands, this can inform decisions across the business. And it could be the difference between profit and loss in the current climate.
Understanding consumers and retaining customer loyalty
Do you understand who your consumers are? How are you going to understand the shifts that happen over the next six to 12 months? If consumers are going to be trading down from one brand to another, where do you fit into those shifts?
It's likely we'll see more customers begin to trade down in coming months, and retailers will need to consider how they appeal to these consumers. In the 2008 recession, a lot of retailers relied on discounting to drive volume but they unintentionally eroded their brand value in the process.
Aside from the risk of reputational damage, cash-strapped retailers simply cannot afford to employ these tactics with their reserves depleted after the pandemic.
In the current trading environment, it's important that retailers look beyond discounting and understand how they can vary their offerings to retain customer loyalty. When John Lewis released its 'Anyday' range, the retail industry looked on in consternation as the middle- to upper-market high street favourite seemed to be eroding its brand value.
But look at John Lewis now. Although it had to retire its 'Never knowingly undersold' price match initiative in August, the retailer has stayed true to "quality and value" and the 'Anyday' range is thriving.
Outside of discounting and trading down, what we're seeing more generally is that consumers still want more than they ever have from retailers, despite their dwindling discretionary spending power. The level of experience across every channel – whether in-store, online, across social channels or at the point of delivery – needs to be seamless. There are now so many touch points with the customer, brands must make sure that every step of the customer journey is considered.
We're all in it together…or are we?
Lower-income households spend a greater proportion of their expenditure on housing, fuel, power and food. Spending in these categories is essential, so these households are less able to cut back on their overall spending.
Again, it all comes back to knowing your customer. If your customer is in the lower-income bracket, they can't afford to put much weight on brand loyalty. Retailers need to stand alongside their customers and make them feel valued.
ASDA, for example, has introduced an initiative where all children eat for £1 in its cafes. It's a nod to customers that the retailer understands the pinch they're feeling right now.
Cut your cloth accordingly
If the last few years have taught us anything, it's that there are some things retailers simply cannot plan for. Outside of global economic pressures, domestic disruption is also taking its toll. The headwinds for retailers look set to continue, with national rail strikes impacting footfall, planned strikes at Felixstowe (the UK's biggest port) threatening to disrupt Christmas trade, and Royal Mail and Parcelforce strikes impacting last-mile delivery.
Having a laser focus on price and getting product mix right are important, but will only get the business so far. Some retailers, particularly those trading in non-essential categories, will need to be realistic about finances and focus on maintaining a healthy balance sheet in coming months. Bringing the entire company on board with cost-saving initiatives should be core to the board's agenda. The actions of key people across supply chains, logistics, finance, operations, and buying and merchandising could have a direct impact on the cash efficiency of the business. It's up to leadership to educate everyone as to the impact they can have on cashflow.
In cases where the underlying business is healthy, thriving even, some retailers may decide to dial back on their ambitions in light of current trading conditions. We're already seeing examples where businesses are putting international growth plans on hold in favour of refocusing on core markets at home. Humility, in what will be an ultra-competitive environment, might be the name of the game for retailers that fall outside of non-essential categories as we head into the leaner winter months and beyond.
There's no one right way
There's no crystal ball that can predict changes in the economic, domestic, and geopolitical environment. But in times such as these it's important that leadership backs itself and puts the business in the best position possible to remain strong and agile. By focusing on these areas, retailers will give themselves the best chance of weathering the storm.

To discuss any of the issues raised in this article, get in touch with our Head of Retail, Jacqui Baker.