When we last surveyed social housing organisations, there were mild concerns about the future security of the supply chain – but no one foresaw how severely the pandemic would test the chain's weaknesses.
The difficulty in getting hold of construction materials is not quite as great a problem as the increased costs of those that are available. 95 per cent of our respondents now cite increased costs as having a significant impact on their finances – a marked rise on the last two years – and 77 per cent say they are struggling to source basic supplies, even for things like repairs to heating systems. As we'll see, this is hardly good news for any planned new housing projects.
Also of concern is the significantly larger number of respondents experiencing labour shortages. Last year only 37 per cent said this was a concern, but the effects of the pandemic and Brexit have now well and truly set in: This year 66 per cent of respondents have labour shortages, even higher than the 63 per cent reported in 2020.
Rising inflation is now also firmly established as a proper bugbear. Only 18 per cent of 2021's respondents considered inflation as something that would have a marked effect on their organisations, but this year that figure has shot up to 89 per cent.
Given post Brexit and also the supply chain issues affecting the economy, what are the key impacts to your organisation?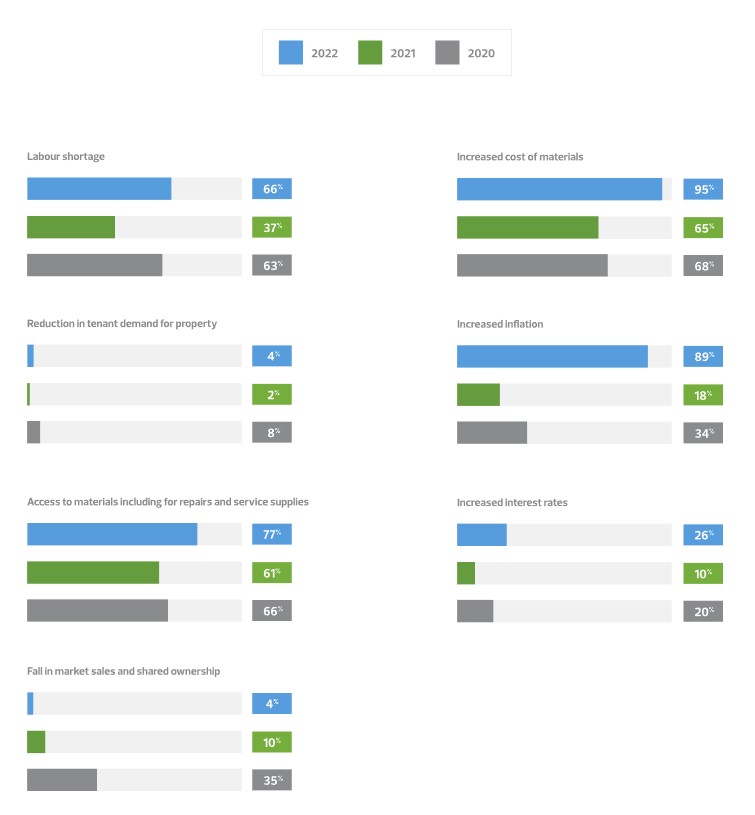 Get more insight from our 2022 survey
Want to know more about how the social housing sector has fared over the last 12 months? Interested in what social housing organisations have got planned for the months ahead?
Read the next articles in this series for a snapshot of the health of the sector in 2022 below.
Contact us for support and advice
Our social housing specialists can help you and your board plan for, and work through, any difficulties caused by Brexit.
Contact Keith Ward, our Head of Social Housing, to discuss your challenges.