In August 2022 two significant events occurred in serialised, episodic television content – something we will call 'high-end TV' for the purposes of this article. First, the Breaking Bad saga soared to a sombre yet triumphant conclusion with the final episode of Better Call Saul. Secondly, HMRC released the statistics for creative reliefs in the United Kingdom and, for the first-time, high-end TV reliefs outpaced reliefs for cinematic productions. These two events underline the increasing creative and commercial importance of high-end TV.
High-end TV is here to stay – but to what extent is it replacing cinema? And is what is happening in the UK matching global media trends?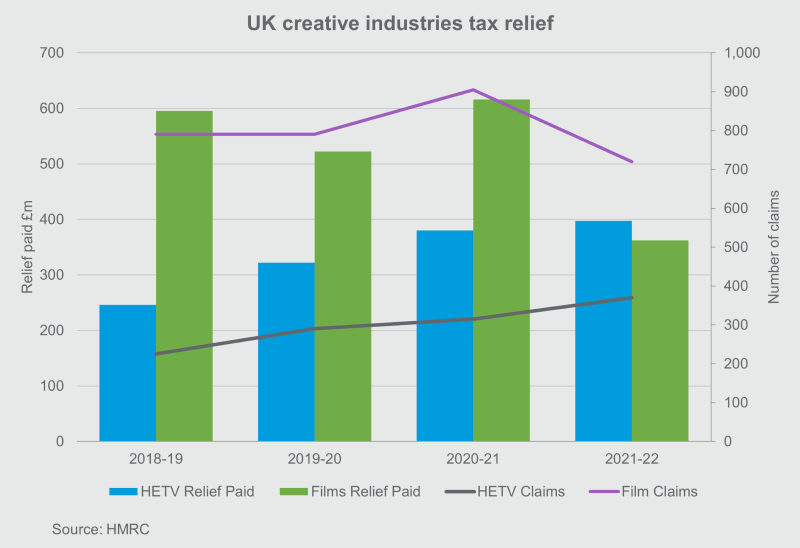 Defining high-end TV
For clarity, we are not referring to advanced television sets in the living room (more of that below). High-end TV is flagship content that is often released episodically. The quality of the acting, production budgets and storytelling will often rival cinematic film – but this content will typically bypass cinemas and be streamed directly into homes, laptops and handheld devices.
Arguably, high-end TV started in 1999 with The Sopranos. The show was released to wide acclaim and kick-started a new age of creativity and commercial importance. Subsequent TV shows including Mad Men, Game of Thrones and Breaking Bad gathered huge audiences and were lavished with praise from critics.
The multiple episode format translated well to streaming companies. They purchased back catalogues and then moved into creating their own TV shows. The importance of IP catalogues was covered in our May release 'Streaming Wars.' High production budgets have attracted movie stars, further boosting the credibility of the shows. All this has been underpinned by the dramatic improvements in video quality on handheld devices and televisions that allows for spectacular home viewing.
No saga better bridges the transition from TV to streaming than Breaking Bad. The saga started as a dark crime comedy drama on US network AMC in 2008, before finding enormous popularity on Netflix. As newer episodes were released on AMC, the back catalogue was released on Netflix boosting audience numbers and buzz around the show. A prequel series, Better Call Saul started in 2015, launching across both AMC and Netflix globally. A feature length sequel El Camino was commissioned as a Netflix original in 2019. As the story finally ended in August 2022 with Better Call Saul, the TV landscape has changed significantly. The show was competing with a range of quality offerings across a variety of streaming platforms.
Even on Netflix, Better Call Saul was not the number one TV show the week it ended. The number one show was the adaptation of Neil Gaiman's The Sandman, which was streamed for 77.2m hours globally. The week before, The Sandman streamed for 127.5m hours. Comparatively, the number one English speaking film in the same weeks was Jamie Foxx vehicle Day Shift that streamed 63.4m and 56.5m in the same weeks.
High-end TV in the UK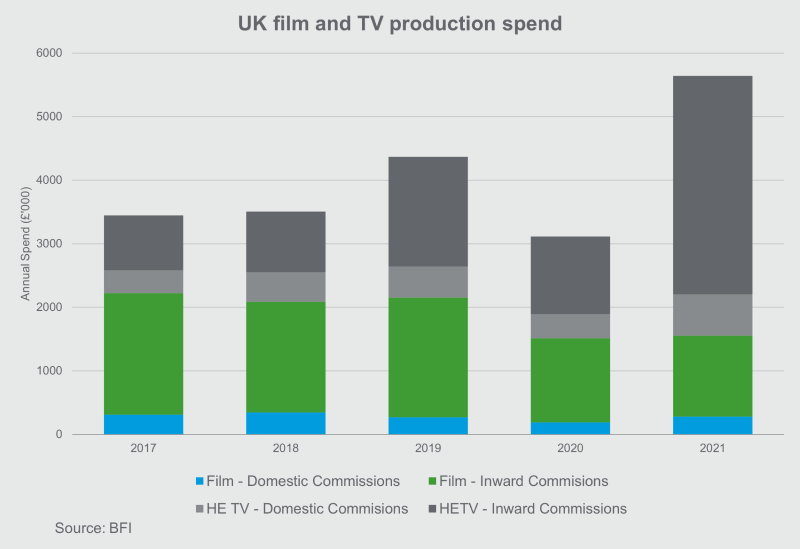 Spend in the UK on high-end TV has risen each year since 2017 - with the exception of 2020 when production was disrupted by the coronavirus pandemic. 2021 saw a total spend of £4.1bn in this area, rising from 1.2bn in 2017. 84 per cent of this production spend comes from overseas and includes flagship titles such as Apple's Ted Lasso and Disney's live action Pinocchio.The British Film Institute (BFI) note in their reporting that the quality and output of production spend from streaming platforms could be categorised as films, however, they capture these productions as high-end TV to match the innovative relief that these productions take under the UK Tax region. In analysing these productions they note that in 2021 there were 36 long-form high-end TV productions – the highest figure on record.
The UK continues to attract overseas production spend. In 2021, spending on production included blockbuster films Aquaman and the Lost Kingdom, The Marvels, Ant-Man and the Wasp and Indiana Jones 5. Whilst total film spend increased to £1.55bn in 2021 (compared to £1.52m in 2020) the inward commission declined by £49m to £1.28bn in the same period. An estimated 122,000 people work in UK film and TV production. It's crucial that this inward investment continues to flow into the UK, with over £4.7bn of spend coming from overseas in 2021 compared to £0.92bn domestic commission.
Will the box office bounce back?
In late summer of 2021 we asked if 007 would save cinema. Unfortunately, not even James Bond was not able to save the day. 2022 numbers track consistently behind the same months in 2019 – the last year before the disruption of the pandemic. Movies in 2022 have not been as successful despite high profile franchise such as Thor: Love and Thunder, Minions: The Rise of Gru and Top Gun: Maverick.
Cinema has emerged into a new environment where streaming has established itself as the dominant alternative. The rise of Netflix and the timing of Disney+ launching in March 2020 has taken household entertainment spend and placed it firmly into the living room.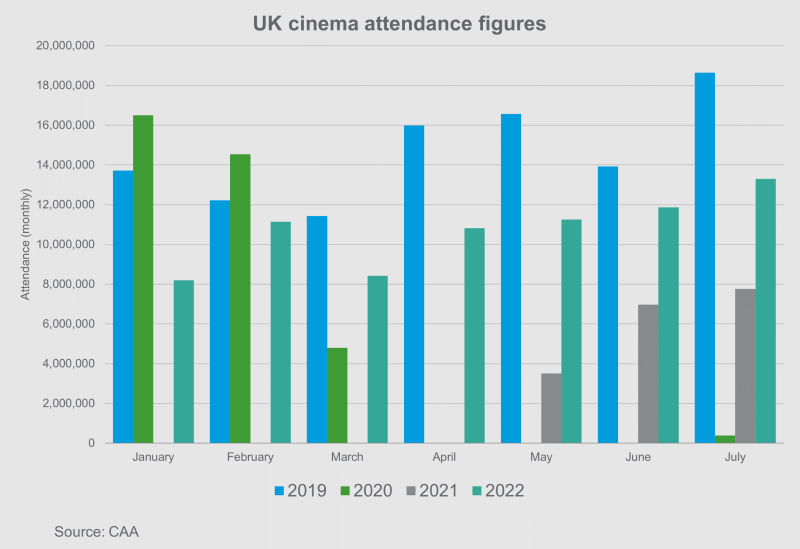 Cineworld, the second-largest cinema chain in the world with over 28,000 employees and 750 locations, has confirmed it is grappling with bankruptcy against $5bn of debt. The pandemic brought to a head huge tension between cinemas and streamers. In 2020 Cineworld and AMC criticised Universal for making releases available online. Ultimately a deal was reached where films would be exclusively shown in cinemas before online rental but Cinema continues to be under threat from streaming companies who are racing to commission their own bespoke content in their own battle to attract and retain subscribers.
Final act
The United Kingdom is one just actor in a global production where high-end TV increasingly plays a more pivotal role. It is home to world class production facilities that can be used for both film and TV. Inward investment is key and having a world class creative relief tax scheme will be crucial to continue to attract this investment against a backdrop of rising costs and risk of recession – this is something for the newly formed UK government to consider carefully.
The Cinema industry may need more support as we approach the winter. The Summer is traditionally the season of the blockbuster. More concerningly the landscape has changed, and streaming is now a legitimate and dangerous competitor. This is no better exemplified by Amazon Prime's latest release – The Rings of Power. This eight-episode release is based on the appendices of The Lord of the Rings. It is over 20 years since the Lord of the Rings trilogy was released in cinema, generating box office takings of $2.99bn globally.
Perhaps the long awaited sequel to Avatar in late 2022 will help the cinema industry. The original movie grossed over $2.84bn over ten years ago – albeit in a very different landscape. Many cinematic releases were delayed and disrupted due to the lockdown restrictions that have impacted the 2022 releases. 2023 includes some major franchise releases including Transformers, Indiana Jones and the usual slate of Marvel movies. Cinema will need this to compete for household entertainment spend with streamers and high-end TV now a proven, and considerable, competitor.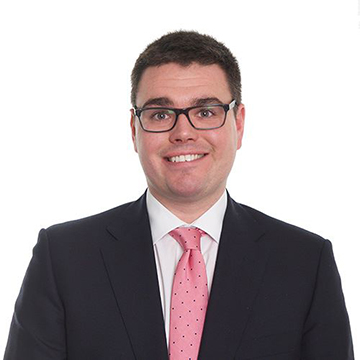 Ben  Bilsland
Partner and Media & Technology Industry Senior Analyst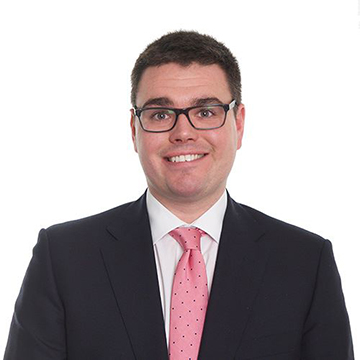 Ben  Bilsland
Partner and Media & Technology Industry Senior Analyst