RSM wouldn't be what it is without its talented, dedicated and hardworking team. We describe ourselves as a people business for good reason. Our people are the reason we are gaining recognition as the leading provider of professional services to the middle market globally. Their broad expertise, which spans all areas of our audit, tax and consulting service lines, helps clients all over the world find solutions to even the trickiest problems. As such, it's our priority to protect, reward and develop our team, so they feel supported and empowered to build a long and fulfilling career at RSM.
Two of our core values are respect and teamwork. Both are vital to the success of RSM as an organisation and of each individual team member. We foster a culture of treating others as we'd like to be treated, displaying respect in each interaction with clients, team members and partners. We cultivate genuine collaboration by working together effectively across all functions and levels.
We've created competitive reward packages, clearly defined development programmes and two-way communication channels that encourage people to share their experiences – especially when there's room for improvement. We're part of a large, multinational network but small enough that every member of our teams has a chance to make a real impact in their field.
We aim to ensure all of our people are recognised and rewarded for their unique contributions to our firm – no matter how humble.
Growing our own

Diversity and inclusion

Health and wellbeing

Modern slavery
Growing our own

Developing internal talent and giving our people plenty of development opportunities is a core element of our people strategy. We call this 'Grow Our Own' – and it's paying off. At a senior level, 16 employees were promoted to partner and 42 to directors in the year to April 2022. In total 514 employees were promoted over the 12-month period, approximately a tenth of our workforce.
We are also proud to have recently won the 2023 AAT Social Impact Award, which is described as a commendation 'for an organisation that has helped drive social mobility'. We were recognised in this category for facilitating access to the accountancy profession.
To make it easier for our people to set their career aspirations in motion, and spot internal opportunities to move into new positions, we are introducing new systems. We will be implementing an enhanced HR system that will help employees track goals and performance and bring their chosen career paths to life. Meanwhile, our talent platform allows us to engage with external candidates, as well as share internal vacancies in a more user-friendly way and enable our people to find mentors in their area of the business.
Our people spent over 196k hours on internal technical and non-technical training courses in 2022, covering diverse topics, such as:
compliance and regulation;
data analytics;
personal development;
health and safety;
diversity and inclusion;
IT;
Wellbeing; and
technical topics across all of Audit, Tax and Consulting.


And despite pandemic-related disruption, we kept trainee recruitment consistent across the most turbulent pandemic years. In addition, our student intake increased by 20% year-on-year to 723 students – made up of 507 graduates, 116 school leavers and 100 individuals on placements.

The Department for Education ranked our UK early careers programme eighth in the top 100 Apprenticeship employers in the UK – making us the highest-ranked professional services firm. We also won the Southeast Apprenticeship Employer of the Year Award and were highly commended for our inclusive and diverse recruitment strategies.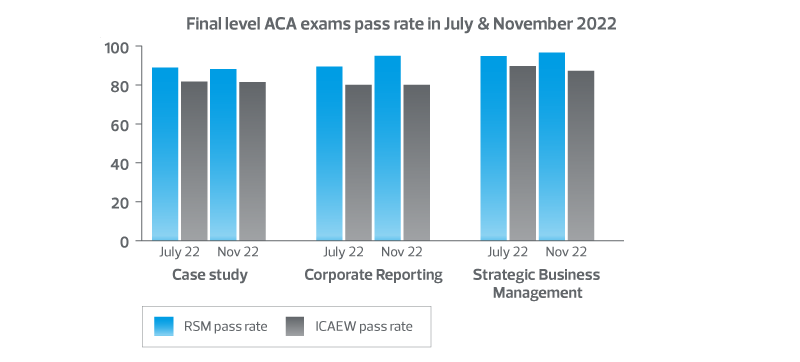 A further measure we recognise is our apprentices' success in their ACA exam results, which are consistently higher than national averages. This is an excellent indicator of the level that our people apply themselves to their work and a positive reflection on the support they are provided by RSM.
Case study – Digital skills and Innovation
At RSM, we're actively developing our people's digital and data literacy. In 2022, every employee received a minimum of six hours of training on the core concepts of data analytics. There is more to follow in 2023, alongside regular topic-based workshops to help people take their digital skills to the next level. We're also rolling out tailored training for specific groups. This includes sessions on 'Using Data for Decision Making' for managers, directors, partners, as well as external Masters-level qualifications for RSM's 'data champions'.
We run regular half-day 'Hackathons' to develop analytical skills in a fun and collaborative way. Everyone is split into small teams and asked to solve a problem using designated analytical tools. Our people learn from each other and competing teams, giving them a better understanding of how to use the tools and explore data in innovative ways.
Finally, our team challenge 'Forward Sprint' helped our people think creatively. Teams made up of individuals from across the firm pooled their knowledge and perspectives to come up with innovative solutions to real-world business challenges at RSM. After the sprint session, participants became ambassadors of innovation in their service line.
George Allen, Audit Supervisor in Bury St Edmunds, took part in a Forward Sprint session and is now an innovation ambassador.
Being involved in the Forward Sprint challenge meant getting to work with people from across our offices and service lines. We received excellent training on ideation – ways of generating, developing and communicating new ideas. It was brilliant to see the other team's solutions; we got to see things from the wide scope of perspectives at RSM and learned from their successes.
Diversity and inclusion
Health and wellbeing

Our people are our greatest strength, so it's vital that we invest in them. We're proud of our working environment and the things we've put in place to enable our people to 'work well' – something we're constantly looking to further improve and evolve. Our wellbeing strategy is focused on ensuring we are proactive in our approach to wellbeing, looking at every aspect of wellness and helping our people look after their physical, psychological, social and financial health. Some of the ways we've done this include:
training a firm-wide team of 200+ wellbeing ambassadors, with at least one based in every office;
launching our #TalkMoney week campaign, highlighting our budgeting and planning tools, providing access to help and advice and hosting a Q&A webinar
signing up to the 'Better Workplace' mental health pledge; and
further expanding our extensive range of employee medical and healthcare benefits to include enhanced support for matters relating to the menopause, prostate, gynaecology, and sexual health.


Our dedicated national wellbeing team review how effective our wellbeing initiatives are throughout the year, before developing and promoting those initiatives that have the most impact. Here are some key numbers that illustrate our commitment and progress in this area:
10,300 recognition moments on our recognition platform from August 21 – August 22;
£153,790 of savings on retail purchases by employees using our discount scheme from August 21 – August 22;
over 500 visitors to the virtual wellbeing centre within the first two months of launch, which offers support on everything from financial worries to mental health;
70% increase in uptake from eligible employees of RSM's private healthcare scheme from 2019 – 2022, as it became more accessible for all employees; and
giving 100% of RSM employees access to a virtual GP service for themselves and their dependants.


Our annual programme of wellbeing events included 'JanYOUary', which encouraged people to take time out to improve physical and mental health in different ways every day. It was also a brilliant way to connect, both digitally and in person, making everyone feel engaged and increasing their sense of belonging at RSM.
We know some of our people are finding it especially difficult right now considering the ongoing cost-of-living crisis. So, we have increased the available financial education resources to help our team members make their money go further. As well as hosting events like our successful webinars, we've been actively promoting better awareness of financially focussed employee benefits like a free 30-minute, one-to-one financial consultation and a digital financial wellbeing tool, which helps our people create a personalised financial plan. We raised awareness through aligning an internal campaign with the national campaign 'Talk Money Week' initiative and intranet articles, alongside the launch of the virtual wellbeing centre previously mentioned.
To understand how effective our support is, we frequently analyse statistical data from our employee assistance programme. When we see our people's needs are changing, we tailor and adjust our support accordingly. We also use data to understand if individual support measures, such as counselling, are helpful. It's been encouraging to see notable changes in clinical anxiety and depression assessment scores after counselling intervention.
As a national firm, we're proud to have established a network of local volunteers across our offices. They're comprehensively trained and help keep our people safe and supported in different ways.
We've helped train: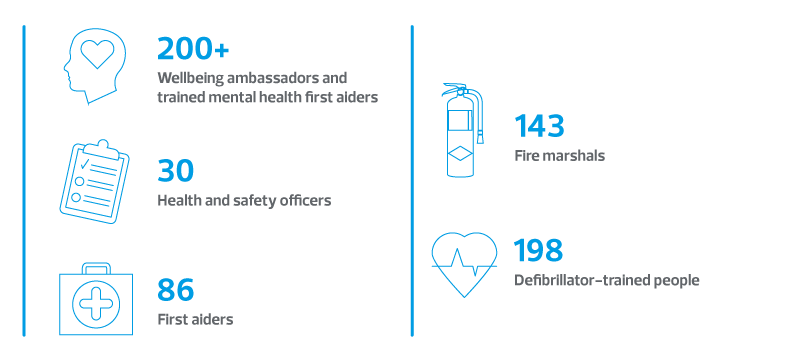 Case study – Burnout
In 2019, 'burnout' was recognised by the World Health Organisation as an 'occupational phenomenon' – and a growing one, too. Coupled with the impact of the pandemic on health worries, we recognised that we needed to put more measures in place to help protect our people from reaching burnout. Even as a ranked 'Outstanding Employer' by Best Companies and with a two-star rating from Best Companies based on our 2021 employee engagement survey, there was room for us to do more.
Since the beginning of the pandemic, and during our adjustment to agile working for the long term, we've regularly asked our people for their opinion on matters, such as their work/life balance and our flexible working arrangements. Their feedback highlighted important areas for improvement, like employee wellbeing for those at the start of their careers with us.
We offer our early-careers employees support by proactively encouraging them to create healthy habits, physically, psychologically and financially from the very start of their careers. We have put in place additional targeted measures to help our trainees get their careers off to a brilliant start without compromising their wellbeing. These include removing probationary periods for new roles, reducing worrying uncertainty and giving new starters a better sense of financial security.
In addition, we created two bespoke training sessions for our students, designed to help them build vital wellbeing skills early and understand how to deal with future challenges the right way.
Managing Your Wellbeing at RSM – This session helped our people gain an understanding of strategies that can help them look after their mental wellbeing and build a healthy mindset that is ready to deal with challenges.
Resilience – This session focussed on resilience, as in how well people can recover from or stay well in the face of adversity. Our people gained a better understanding of resilience and explored ways to build theirs.
Modern slavery

We take a zero-tolerance approach towards modern slavery. Key policies and procedures are in place and subject to ongoing review to protect our employees and those we work with.
We have published a statement on our website in accordance with the Modern Slavery Act explaining the steps we are taking to ensure slavery and human trafficking is not taking place in any part of our own business or our supply chains
We have implemented a new Supplier Code of Conduct approved by the National Leadership Team. This Supplier Code sets out our expectations of our suppliers in several areas including modern slavery.
In summary, its key requirements in relation to modern slavery are that our suppliers:
engage their staff on written terms which comply with law, explicitly state their working hours and compensation and contain a right for them to terminate;
pay all remuneration owed to their staff without delay and in accordance with law;
take a robust and proactive approach to recruitment, and to only use reputable recruitment agencies;
provide training to their staff on modern slavery issues;
have policies to encourage their staff to raise concerns without fear of reprisal; and
have policies to make sure that the suppliers they use are reputable and engage in ethical business practices.
We have now engaged on the Supplier Code with a number of our top suppliers (who between them account for around half of our total spend on suppliers across the RSM UK group). We have asked them to either acknowledge our Supplier Code or provide alternative assurance that they comply with it. Following this process, we will review the implementation of our Supplier Code to ensure it is meeting our requirements, and then consider expanding the scope to cover a wider range of our key suppliers.