4policies™: Demonstrate that your employees have read and understood your company policies and procedures
4policies™ enables you to educate your employees on your company policies and procedures, identify levels of awareness and record their acceptance of these policies. In addition, 4policies™ can be used to demonstrate compliance with employer obligations under various regulations and legislation. Your policies (for example, covering confidentially, safeguarding, financial crime etc.) can easily be displayed to your employees and their understanding of them monitored through the extensive reporting facilities built into the software.
Alerts for employees

Supporting resources

Confirm employee understanding

'At a glance' status

Policy review

Integrated questionnaires
Alerts for employees
Your company policies are deployed to your staff through a web based interface. These policies can be grouped into convenient categories, and a simple 'traffic light' system shows your staff which policies they need to review and accept. Employees can be automatically alerted via email of any new or overdue policies.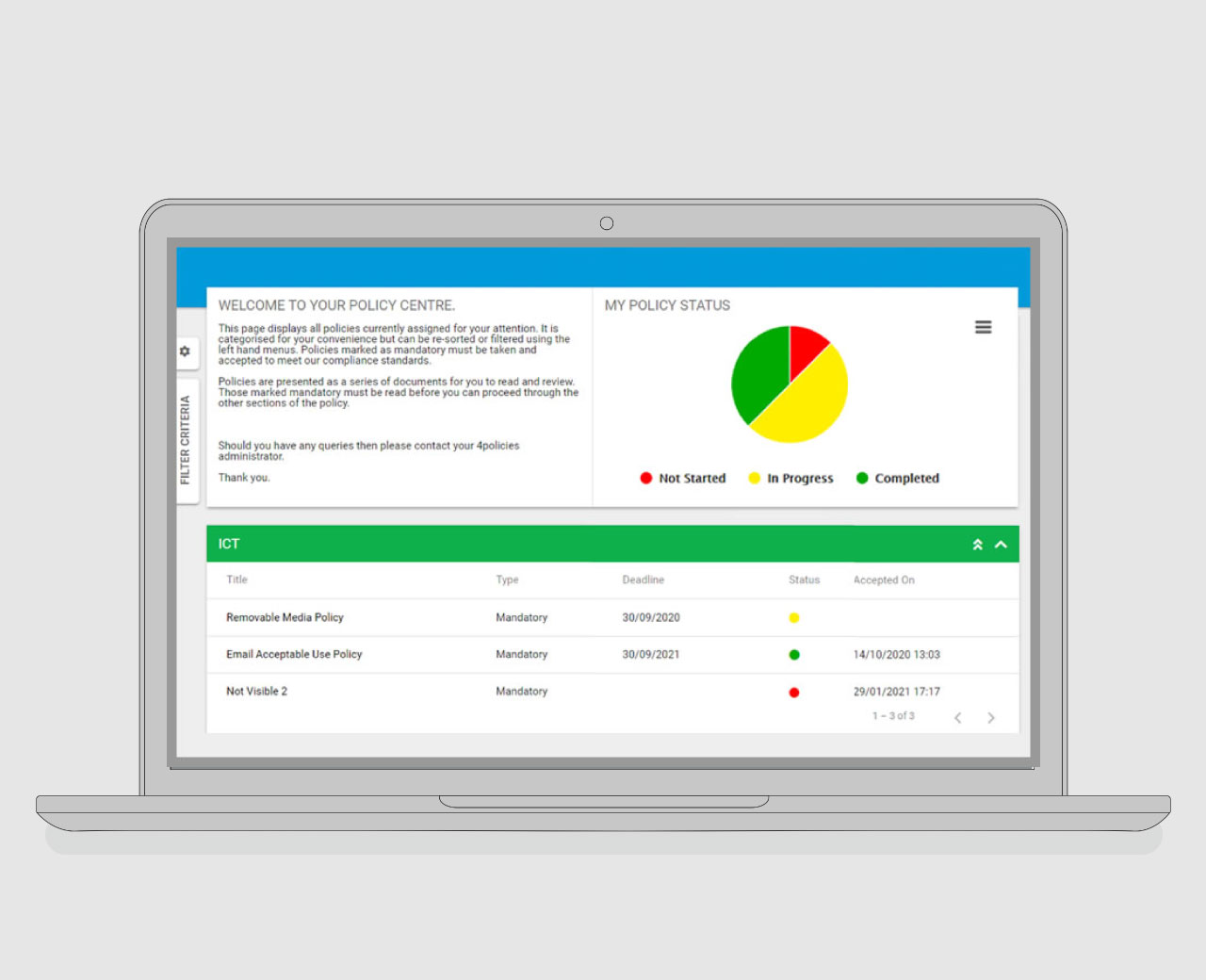 Supporting resources
A policy can be comprised of just a single document or it can have other associated documentation displayed alongside it so that all related information is available in one place. In addition, training videos can be uploaded, appendices attached and forms can be linked to.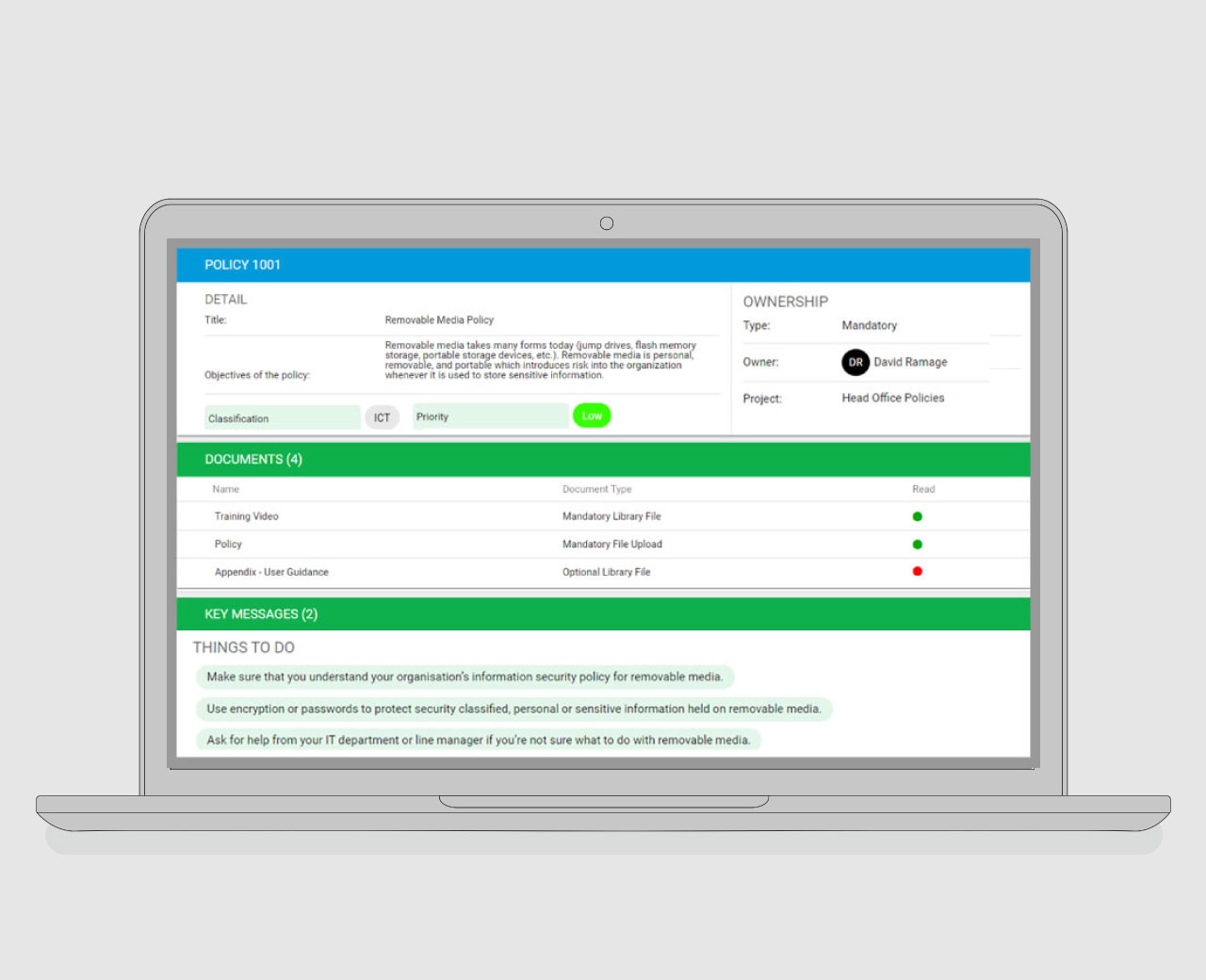 Confirm employee understanding
Prior to accepting a policy there is an option for an employee to be asked a series of questions related to it. Failing to correctly answer the required number of questions (or even failing to pass the quiz a set number of times if the option is given) will result in the policy administration team being alerted and the employee unable to accept the policy.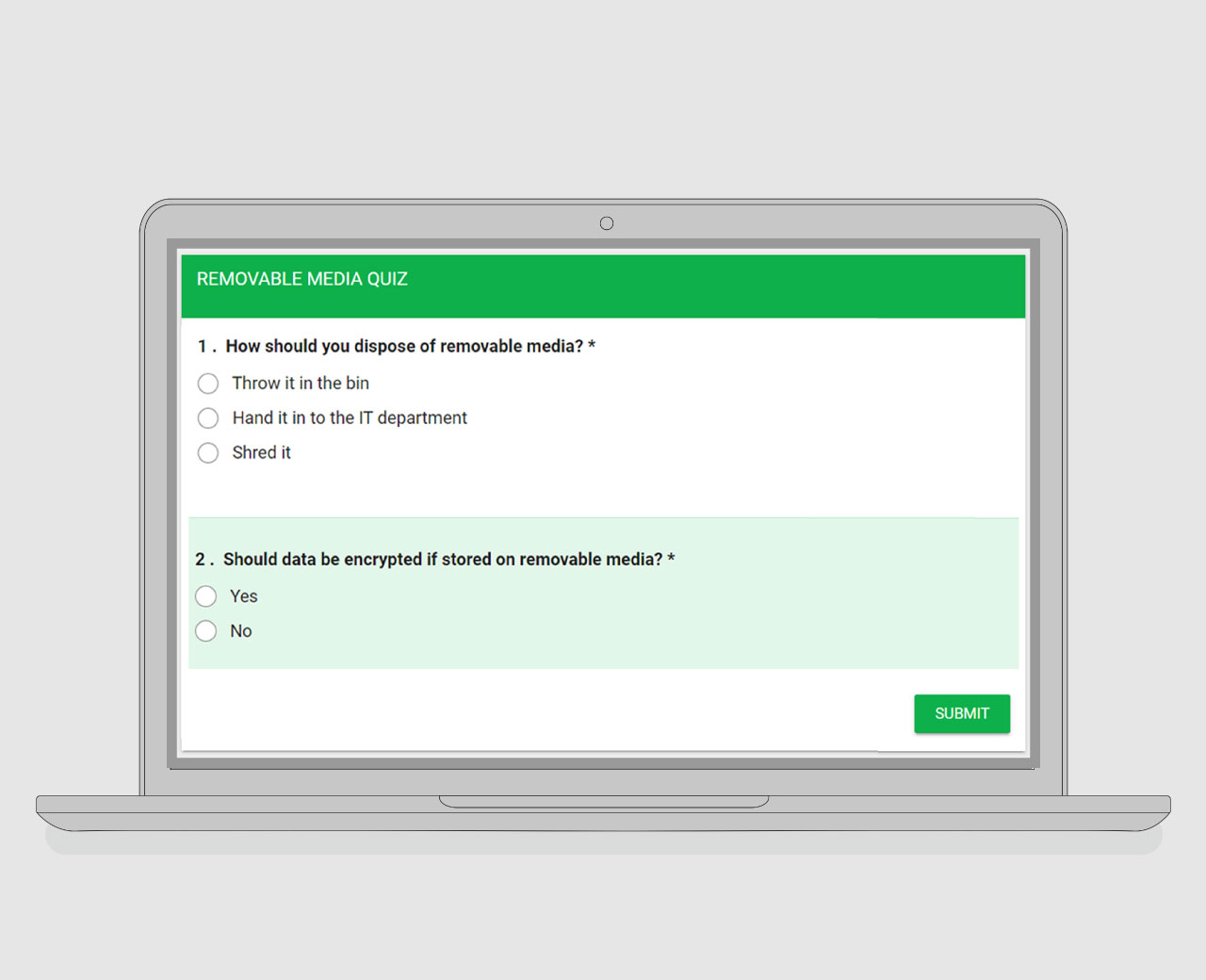 'At a glance' status
Managers can see the levels of policy acceptance firm-wide, and drill right down to the individual user level for greater insight in order that appropriate management action can be taken. A comprehensive report engine can generate information in both tabular and graphical format for inclusion in management reports.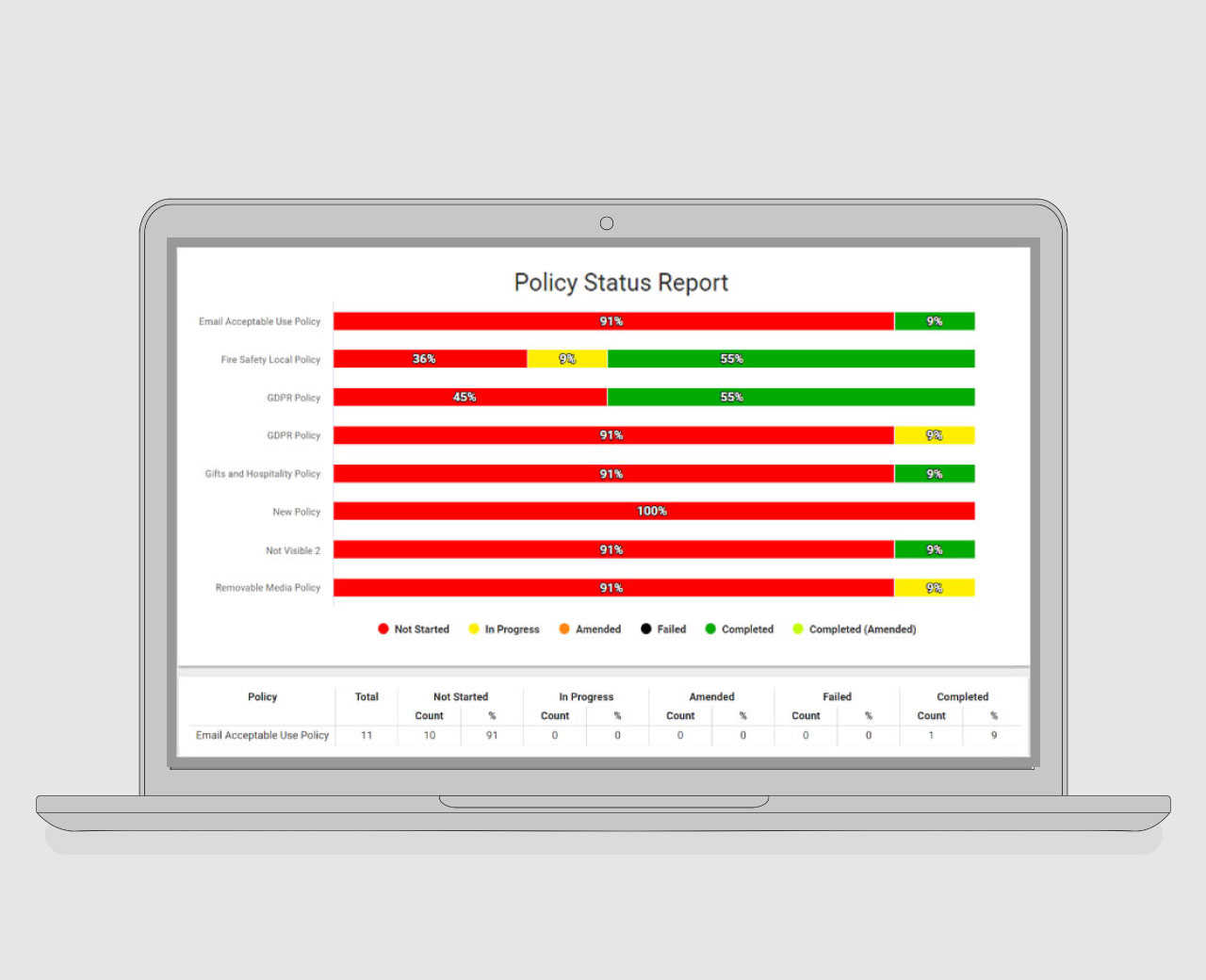 Policy review
A comprehensive review mechanism is built into the system to ensure policy owners keep their policies up to date. Alerts are sent out allowing the policy owner to review and make changes to it. Version control then ensures users are provided with the latest version of the policy as well as a comprehensive audit trail of acceptance.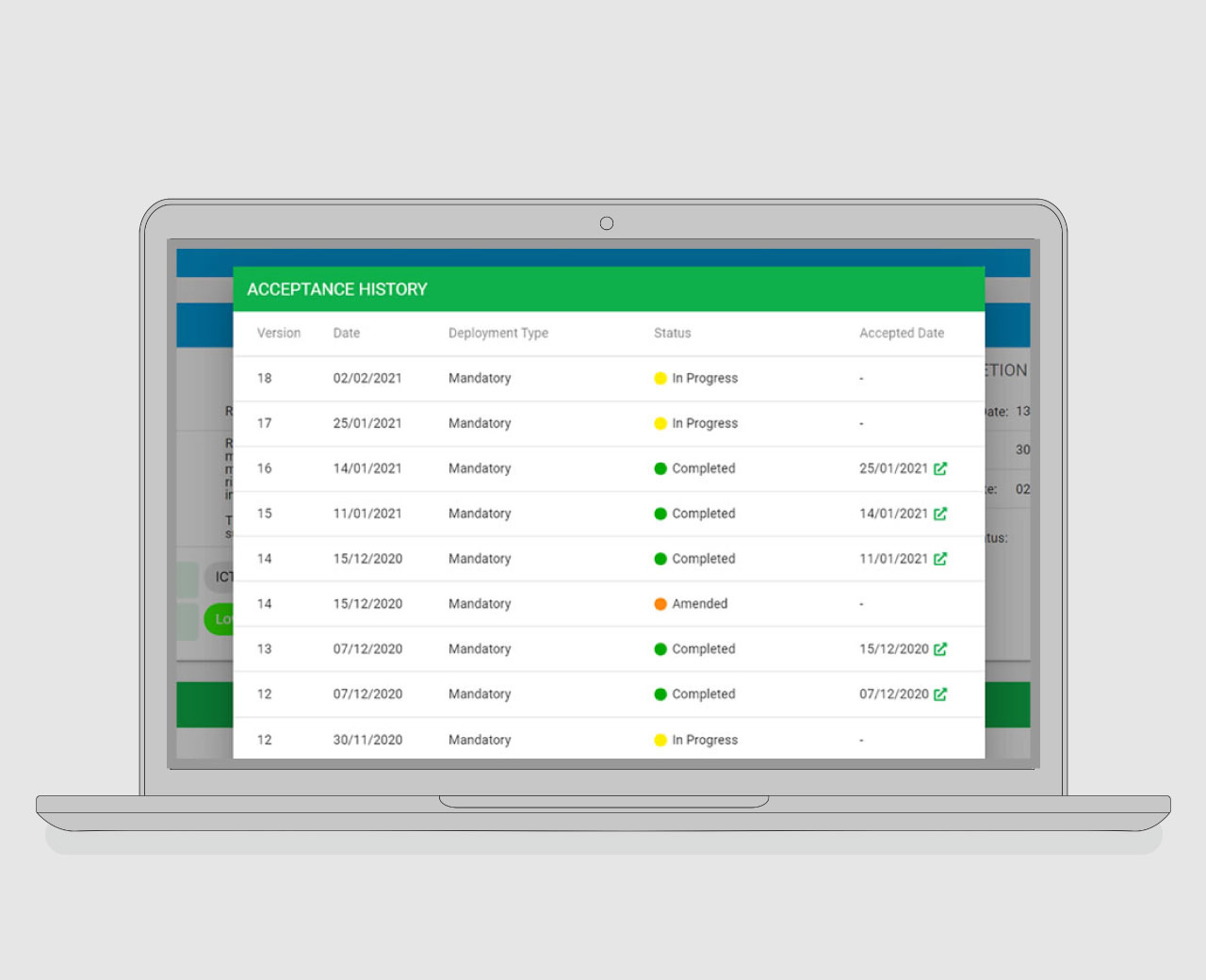 Integrated questionnaires
4policies™ can be utilised to not only advise employees on company policies but can also be used to collate user provided information for policy related information. These customisable questionnaires offers a high degree of flexibility. Submissions can be risk graded and escalated as appropriate for review or for further action.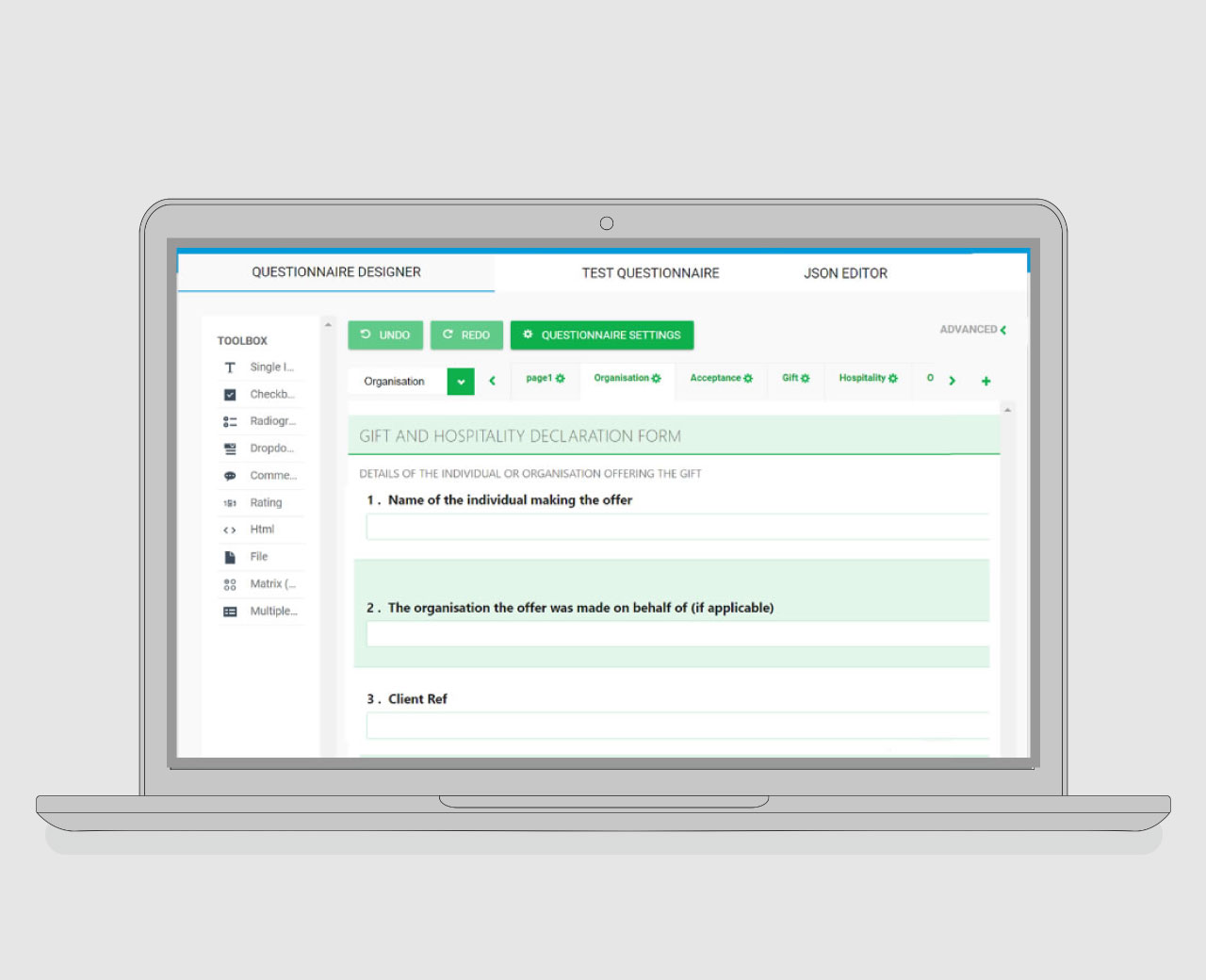 Why choose RSM and 4policies™ to help tackle your policy management issues?
Not just software: We are qualified and highly experienced risk management practitioners
RSM is one of the largest providers of risk management advisory services in the UK. We work with over 650 clients across all sectors and understand, and can address, the challenges that organisations face.
Your risk solution is backed by full training and a dedicated support and help desk
The 4policies™ software includes consultancy support to set up your system and to ensure that it meets your organisational needs. We also provide full training, all software upgrades and access to our dedicated help desk.
An extensive client care program including user forums and roundtables with other users
We are here to support you and to ensure you get the most value from our software. We are dedicated to providing an accessible, friendly and experienced contact to engage with during the year, whether it be through six monthly review meetings or when meeting other user of the platform.
4policies™ is part of Insight4GRC™
Insight4GRC™ is a cost effective governance, risk and compliance software (GRC) suite. Other modules include: