4action™: Enabling you to better manage your business actions and recommendations
4action™ is a customisable and powerful action tracking software tool that gives individuals the ability to update the status of actions and tasks that they have been allocated responsibility for by management. This helps ensure that the action status always reflects a real time position. 4action™ is mobile friendly and works on iOS and Android devices.

Through the use of 4action™ organisations have significantly improved the visibility of agreed actions, increased the accountability of action owners and made significant savings in reporting.
Key features of the 4action™ action tracking software
Full audit trail

Extensive dashboards

Actions in stages

Powerful reporting

Easy tracking for users

Automatic email reminders
Full audit trail
4action™ enables you to record all updates to any assigned tasks and provides a comprehensive audit trail of the progress of individuals' actions and tasks. These can be accessed through a simple click of the interface.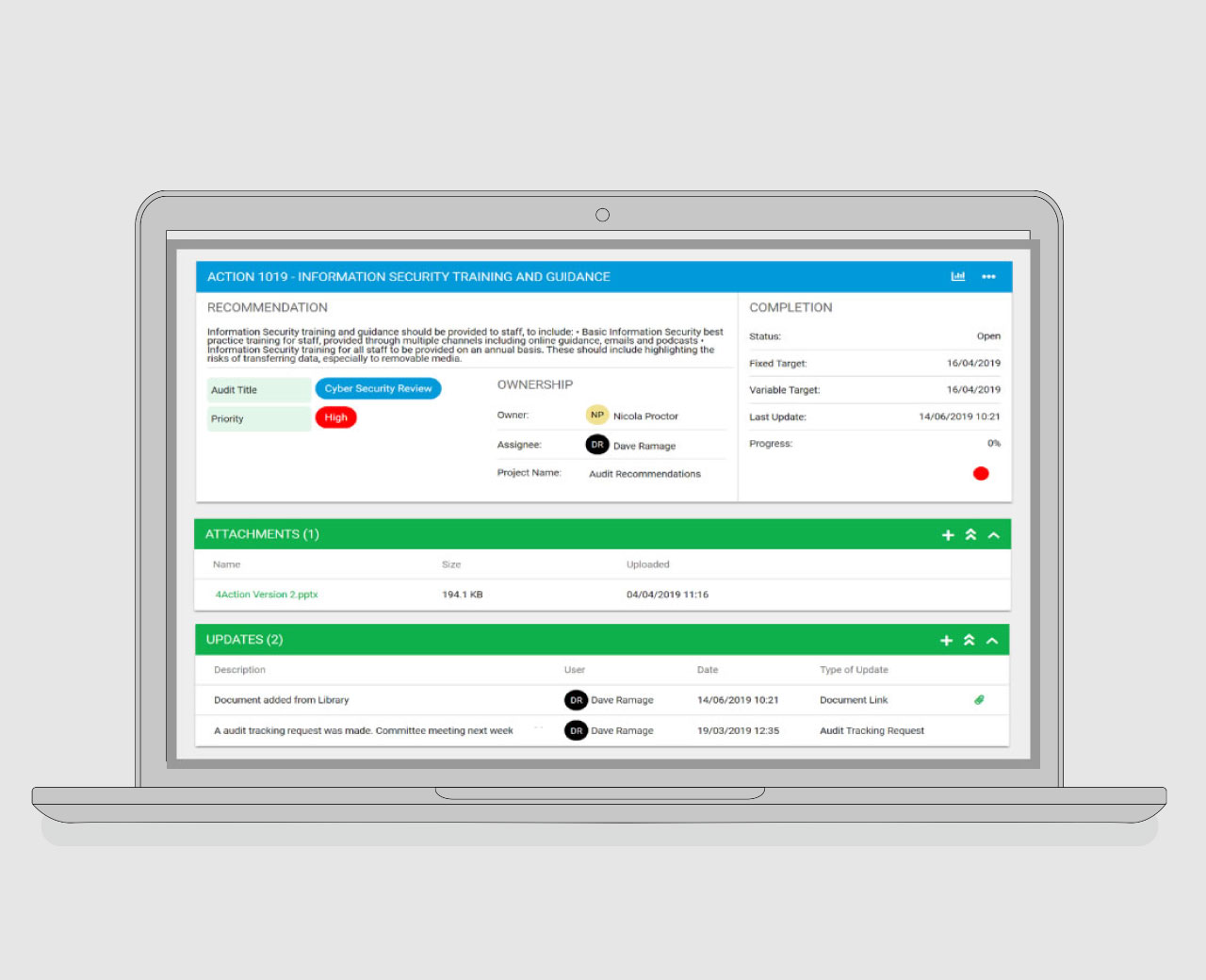 Extensive dashboards
4action™'s dashboard gives management a complete overview of the status of all actions across the entire organisation. Users are able to interact directly with this interface in order to drill down to the level of each individual action. Customisable dashboard ensure that different users only see information relevant to them.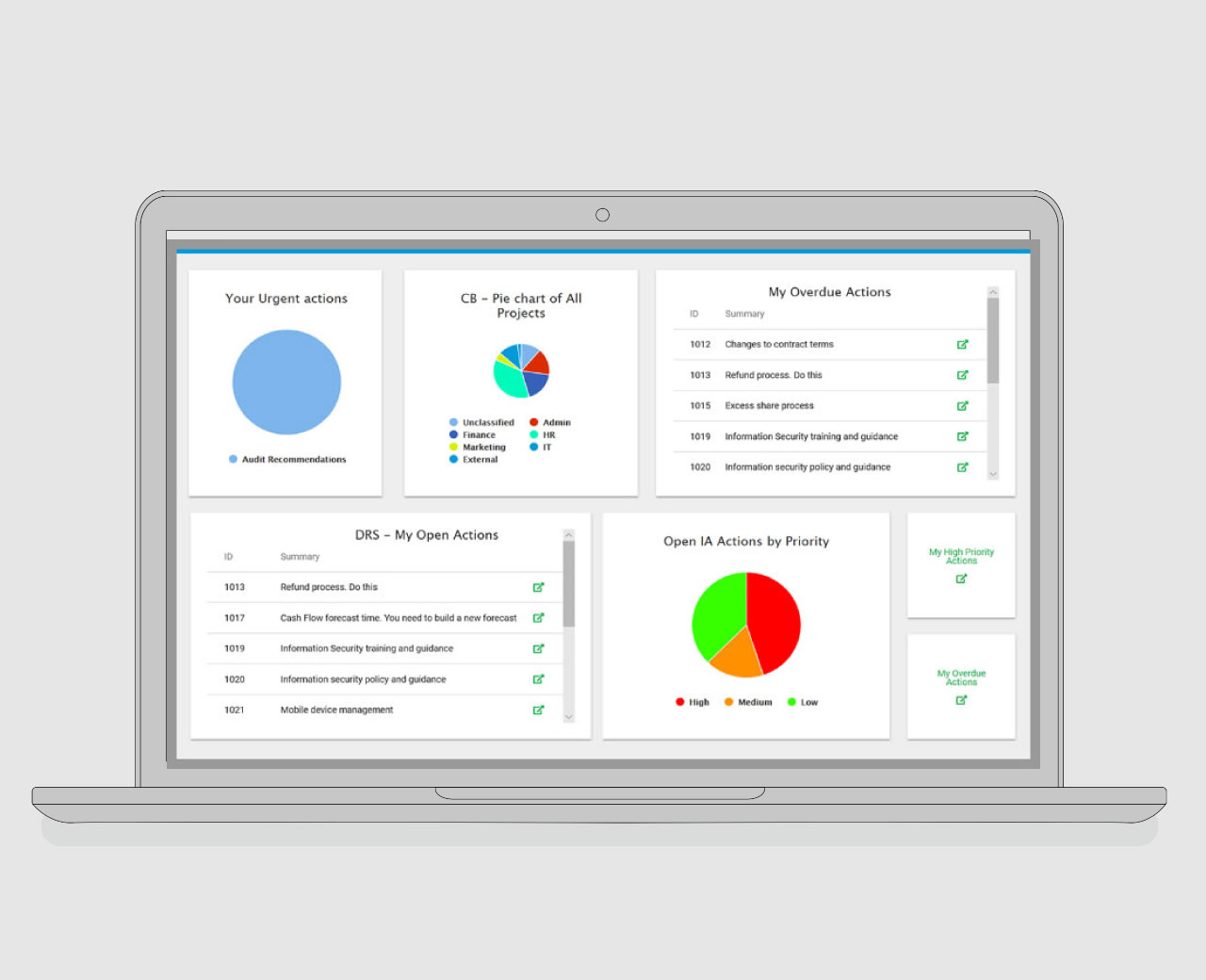 Actions in stages
Sub-tasks can be attached to actions allowing them to be broken down into smaller parts and assigned to a range of different users. These stages also have time management and progress tracking enabling users to easily monitor progress.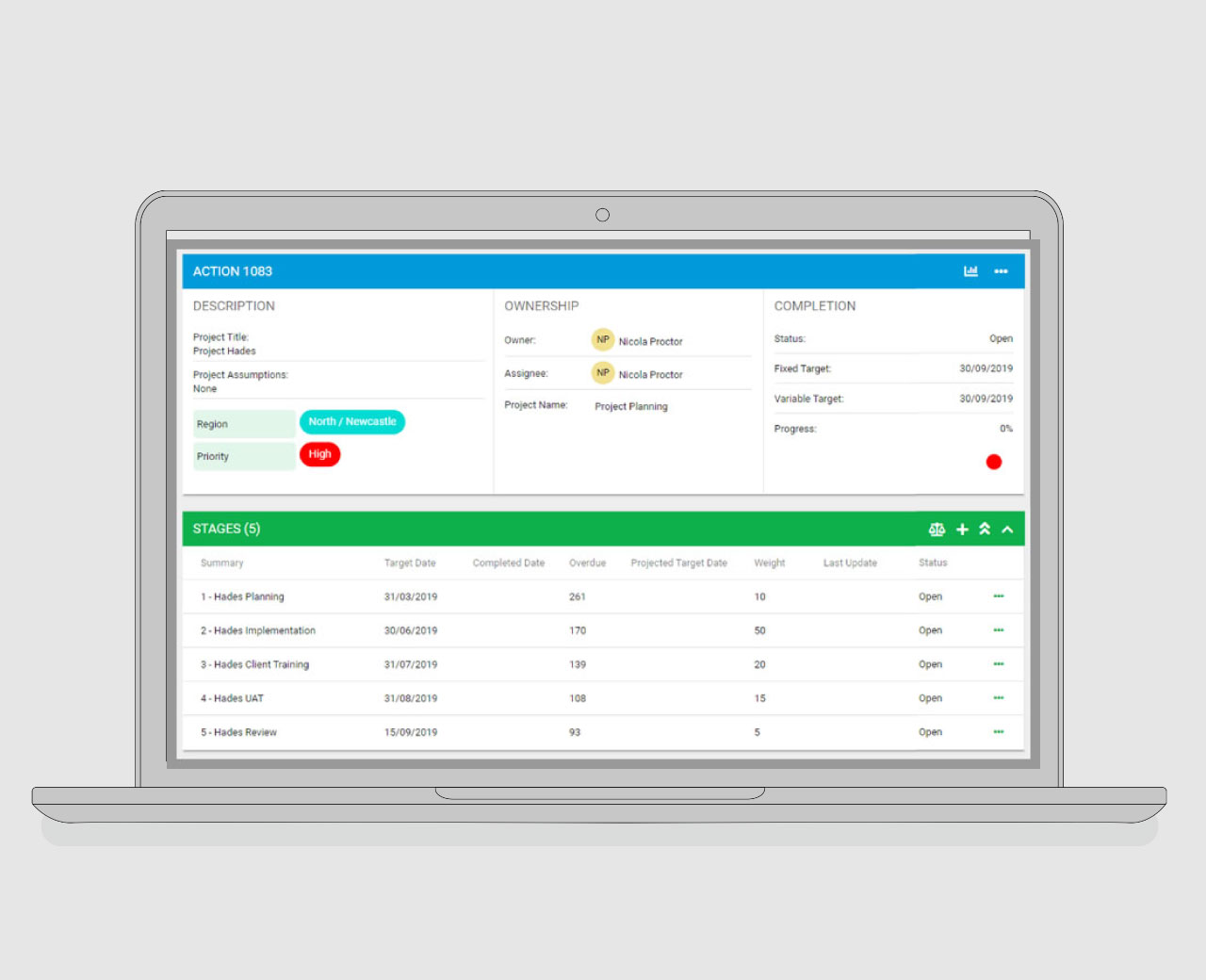 Powerful reporting
4action™ features realtime onscreen reporting with the option to print. The interface makes sure reporting is relevant and actionable and allows further investigation by drilling down to see the underlying detail. Reports can be run not only to show the current status of actions - but to reflect a position at any given historic date.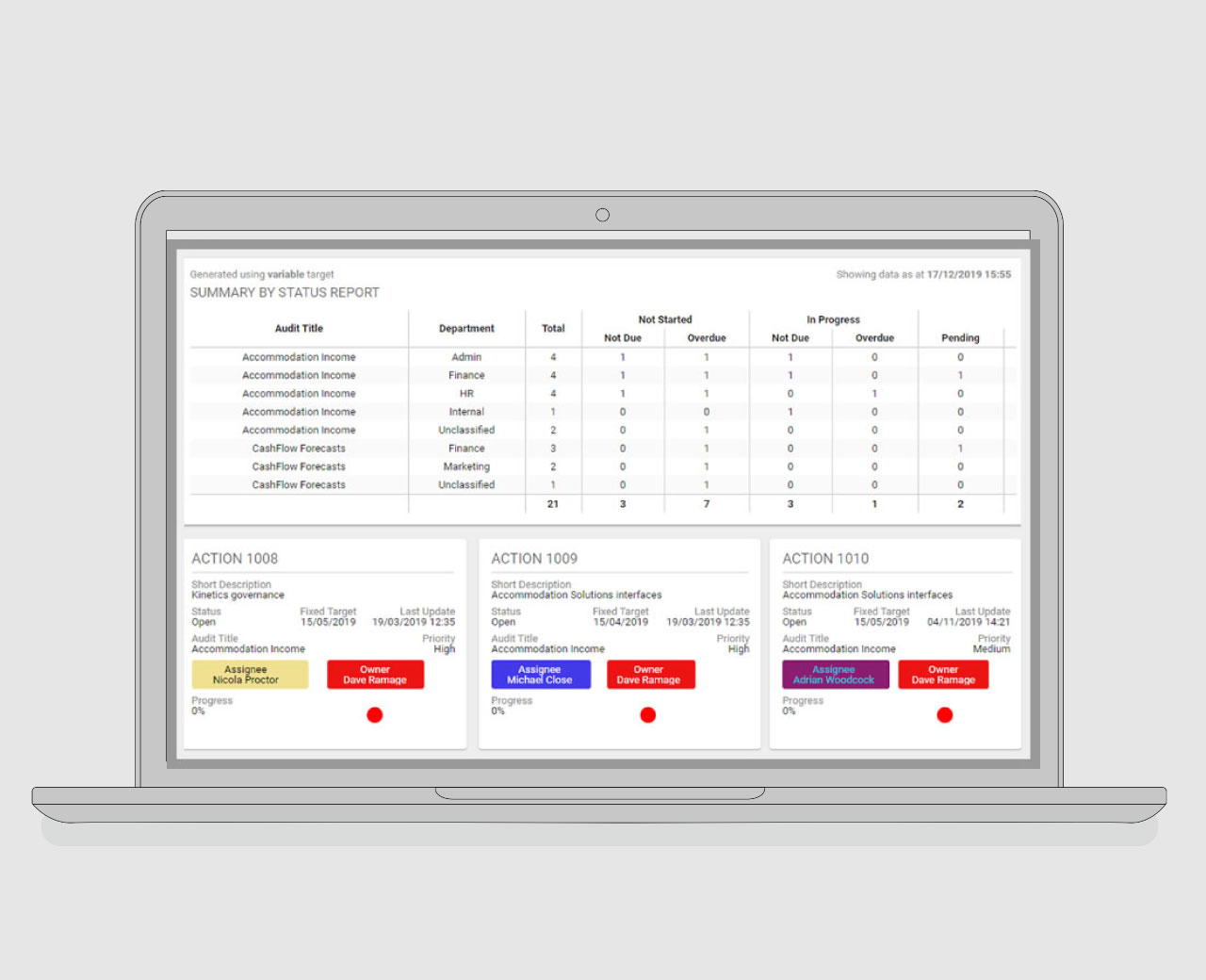 Easy tracking for users
4action™ administrators can easily assign actions and tasks to a user's work queue. The user will be presented with a workflow screen showing all of their assigned actions and tasks and the current status of each. The user can drill right down to a detailed view of the action or task required of them via a few simple clicks.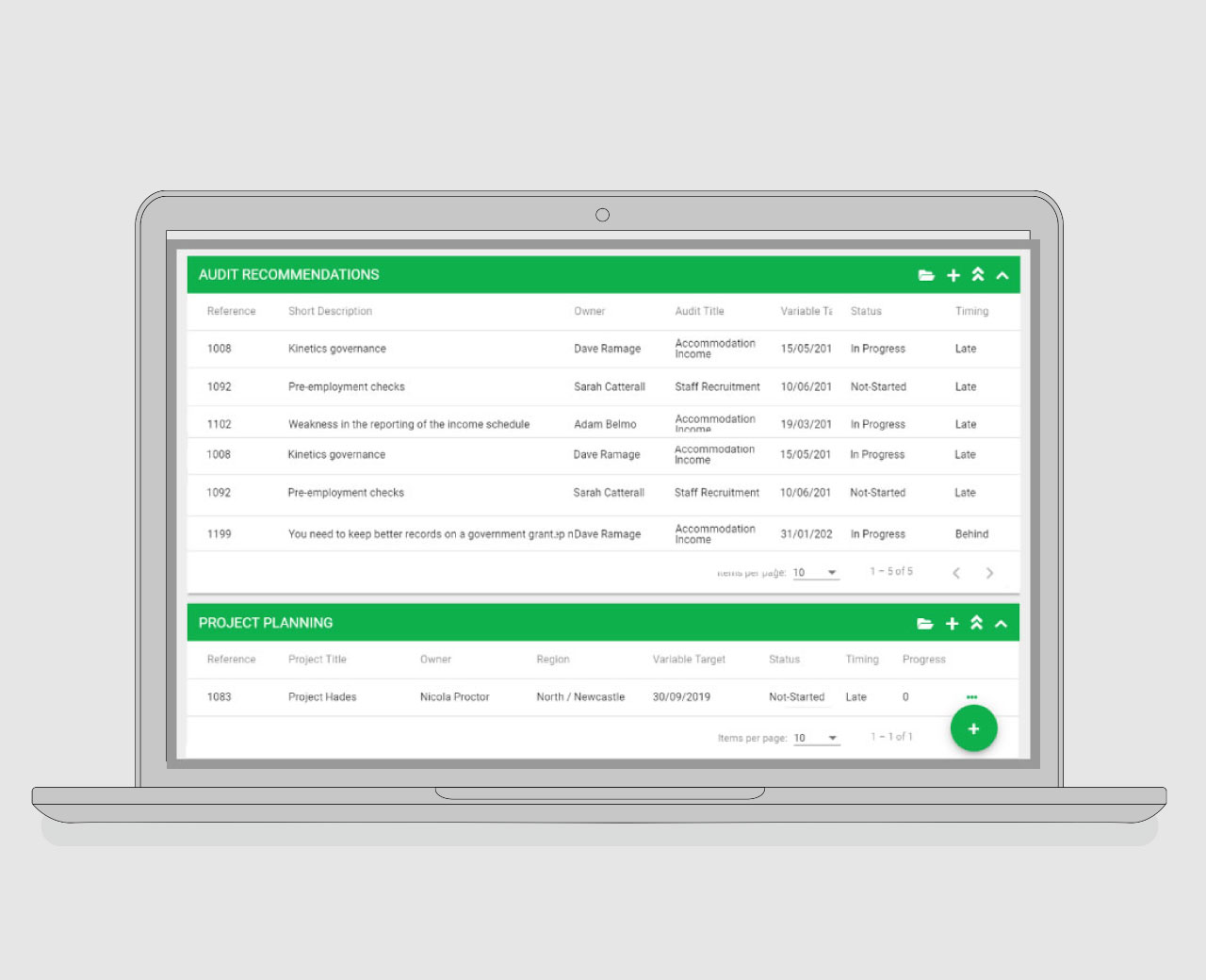 Automatic email reminders
The software has flexible and tailorable notifications for administrators and action owners. The notification bell signifies to the user of any actions requiring attention. Email notifications can automatically be sent per action or together in an email digest.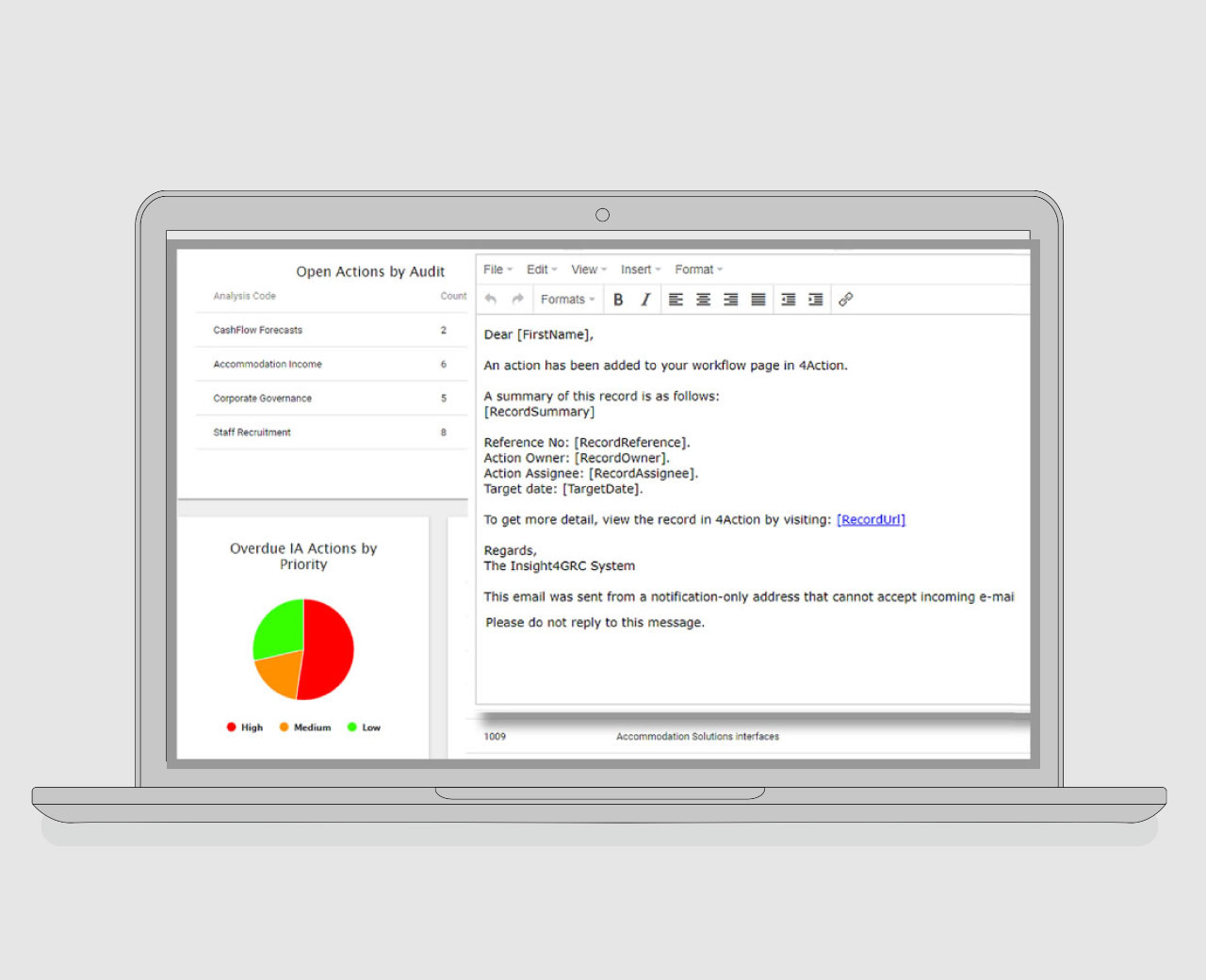 Why choose RSM and 4Risk™ to help manage your requirements?
Not just software: We are qualified and highly experienced risk management practitioners
RSM is one of the largest providers of risk management advisory services in the UK. We work with over 650 clients across all sectors and understand, and can address, the challenges that organisations face.

Insight4grc dedicated support desk
The 4risk™ software includes consultancy support to set up your risk management system and to ensure that it meets your organisational needs. We also provide full training, all software upgrades and access to our dedicated help desk.

Insight4grc client care panel
We are here to support you and to ensure you get the most value from our software. We are dedicated to providing an accessible, friendly and experienced contact to engage with during the year, whether it be through six monthly review meetings or when meeting other user of the platform.
Clients we have worked with: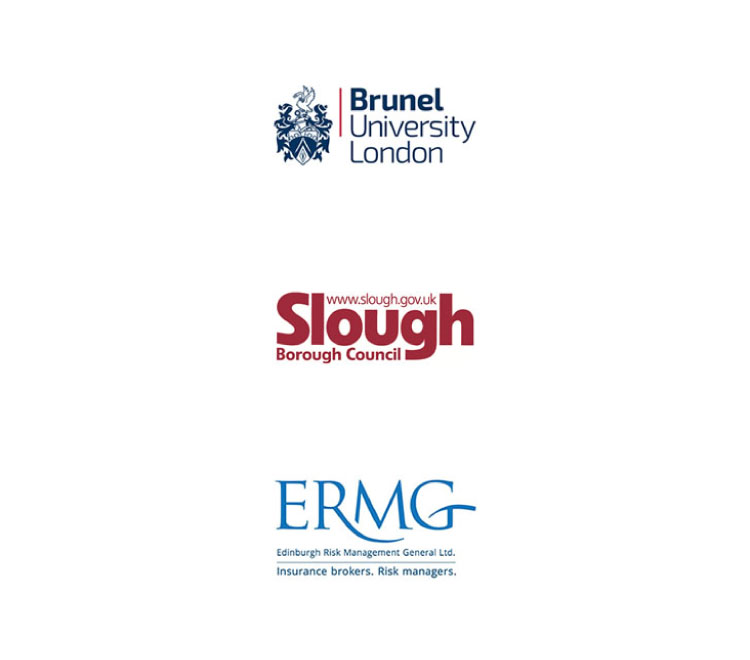 4action™ is part of Insight4GRC™
Insight4GRC™ is a cost effective governance, risk and compliance software (GRC) suite. Other modules include: