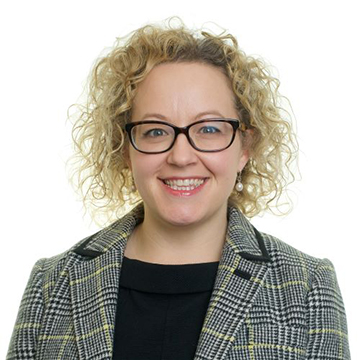 Helen Brocklebank
Partner, M&A
Biography
Helen leads the M&A team in the West Midlands and is the Co-Head of the Industrials and Manufacturing sectors within M&A. Helen has over 16 years' worth of deal experience, specialising in mid-market cross-border deals, leading, and advising on a wide range of transactions including disposals, corporate carve outs and private equity backed buyouts.
Helen has two children in their early teens, and as a result, finds her home life is split between acting as an amateur taxi service and trying to pull her kids away from screens. Helen likes to wind down by being walked by her oversized dog, a Scottish Deerhound called Nigel.
Helen says, "I support my clients at a pivotal time in their business lifecycle, understanding what is critical to them, and the key drivers to deliver that. I have led complex, multi-jurisdictional transactions for my clients but the ability to build relationships and control sensitive personal dynamics is at the heart of my approach."
Favourite thing about RSM
"You can be highly professional without losing your personality. The teams I work with are committed to delivering market leading service and best-in-class results for our clients but with a truly individual and personal approach. This diversity of opinion across our teams ensures you can bring your whole self to work and that we also deliver the best solutions for our clients."
Helen's RSM timeline:
2007: joined RSM M&A North West from PwC
2020: transferred to lead Birmingham M&A team
2021: promoted to Partner
Deal case studies: