RSM UK's Susan Ball, the Chartered Institute of Taxation's new president, has formally welcomed Andrew Hubbard as the CIOT East Midlands Branch Honorary President at the branch's conference on June 14. Andrew is the first ever recipient of this honour in the Branch's 37-year history.
The role was originally granted to Andrew in March 2020, making this the first opportunity to announce it to members at an in-person event due to the pandemic. As Honorary President, Andrew will act as a figure head for the branch and carry out key roles including chairing future tax conferences, attending key events, presenting awards to prize winners in the East Midlands and promoting good relations between the branch and the wider tax community.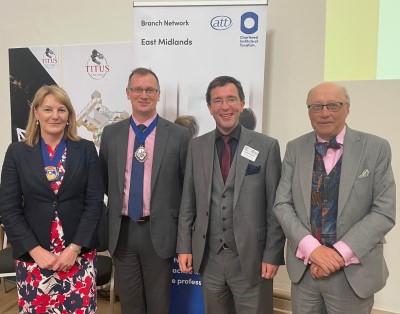 Left to right: Susan Ball, Richard Todd (ATT President) Stephen Foulkes (previous East Midlands Branch Chair), and Andrew Hubbard at the CIOT East Midlands Branch Day Conference
Andrew has previously served on the ATT Council for 13 years and was on the CIOT Council for 15 years. He is also one of only four people to have held both roles as ATT President from 2002-2004 and CIOT President from 2009-2010. He has over 37 years' tax experience and is currently Editor-in-Chief of Taxation Magazine. Andrew is a former partner at RSM UK, where he spent a total of 21 years in the tax team and was a regular contributor of tax industry news and ideas.
Susan Ball, RSM UK partner and new CIOT president, comments: 'We are delighted to have welcomed Andrew onboard as the East Midlands Branch Honorary President. Andrew has made an enormous contribution to the tax profession for many years as both ATT and CIOT and is a well-respected figure within the tax community, therefore, this is awarded in recognition of his outstanding service during his career.
Andrew Hubbard, the CIOT's East Midlands Branch Honorary President, comments: 'It's a huge honour to be awarded this title, particularly as the first recipient. The East Midlands Branch has achieved remarkable things over the years, so I'm looking forward to seeing its success continue in the future.'