Leading audit, tax and consulting firm RSM UK has appointed Gemma Legg as a partner within its corporate finance team in Reading.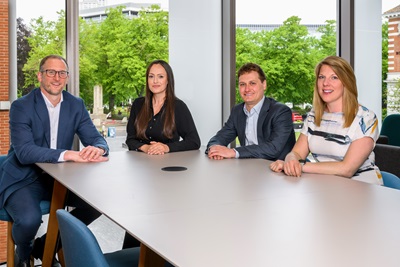 Gemma rejoins RSM from KPMG, where she was a director in the Thames Valley and South Coast M&A team. She originally joined RSM as an M&A graduate in 2011 and progressed to manager.
In her new role, she will be heading up a new M&A team across the Thames Valley and South Coast, as well as leading the firm's consumer M&A offering.
Gemma has extensive experience advising owner-managed businesses on sell and buy-side opportunities, along with helping them to raise development capital. She has worked on both trade and private equity transactions across several sectors, including technology, media and telecoms (TMT), retail, industrials, healthcare and software.
Throughout her career, Gemma has won multiple awards. During her time at KPMG, her team won Large Deal of the Year (over £50m) at the 2023 Solent Deals Awards for advising on the sale of Workdry International to Acrus Infrastructure Partners. She has also won Young Dealmaker of the Year at the Thames Valley Insider Deal Awards in 2021 and the South East Insider Deal Awards in 2017.
Gemma Legg, corporate finance partner at RSM UK, comments: 'I'm thrilled to be returning to RSM and embarking on the challenge of setting up a new team in the Thames Valley and South Coast. I'm looking forward to working closely alongside the firm's dedicated regional due diligence and consulting teams to provide local M&A coverage. My decision to return to RSM was largely driven by the firm's collaborative culture and its focus on supporting middle market businesses which is a real passion of mine.'
James Wild, head of M&A at RSM UK, said: 'I'm delighted to welcome Gemma back to RSM. Her expertise will be vital in helping us make an impact in the Thames Valley region – an area that we see great potential and opportunities – and will complement our existing due diligence team in Reading. We have ambitious growth plans for our national M&A team which includes investing in key sectors like consumer markets and in new geographies, so having Gemma onboard is a big step towards achieving these goals.'
Mike Sables, office managing partner in Reading at RSM UK, added: 'Gemma is a fantastic addition to our 200-strong Reading team. Her expertise will be pivotal in strengthening the delivery of our M&A services locally as businesses look to take advantage of merger and acquisition opportunities on both sides of the deal table. Local businesses are showing resilience in still quite tough trading conditions but there are deals to be had so it's an ideal time to have her back at RSM to complement the success and growth of our due diligence team.'
(Pictured from left to right): Alex Pike (corporate finance partner), Gemma Legg (corporate finance partner), Max Whitehead (corporate finance director) and Natalie Stacey (corporate finance director) in Reading.