Average daily rate (ADR) in UK hotels rose in November as COP26 boosted demand, according to the RSM Hotels Tracker.
The data, compiled and produced by Hotstats and analysed by RSM, shows the ADR across the UK increased to £133 from £126 in October, with Scotland enjoying a huge spike of £29 from £133 in October to £162 in November.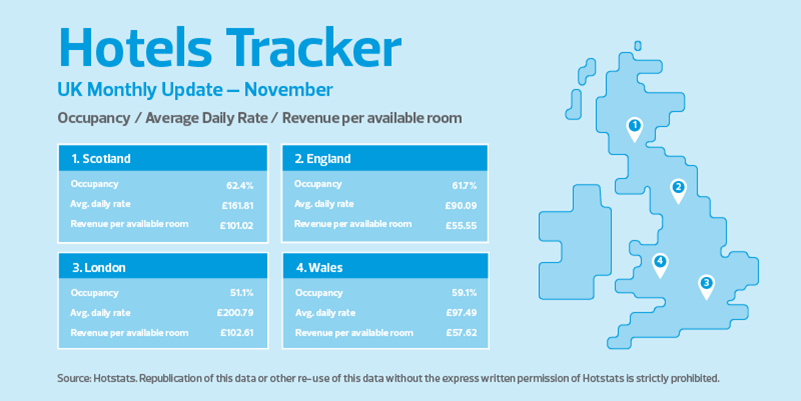 UK hotel occupancy rates decreased in line with pre-pandemic seasonal trends to 58 per cent, and still remain 20 per cent lower than pre-pandemic levels. London saw increased occupancy levels for the fifth consecutive month moving up to 51 per cent from per cent and saw ADR exceeded pre-pandemic levels at £201.
After a staycation peak in August, Wales' occupancy rates have continued to fall to 59 per cent from 76 per cent in the summer. However, ADR still remains significantly higher than pre-pandemic levels at £97.
Chris Tate, head of hotels and accommodation at RSM UK, said: 'The UK hotel sector saw a welcome, but short-lived, boost in average daily rates as demand for accommodation during COP26 helped to boost prices throughout November.
'London had a strong month with occupancy levels up and room rates exceeding pre-pandemic rates. However, supply in London is being restricted as some hotels are withholding rooms due to lower demand and staff shortages, so available rooms are commanding higher prices.
'Unfortunately, Omicron has placed the sector into reverse. Last month forward bookings were signalling a bumper Christmas for London but cancelled theatre trips, Christmas parties and New Year's Eve celebrations will all hit the hotel sector hard in December. This latest twist will not only see a loss of income, but it will compound pressure on staff shortages as Covid absences spike.
'Without a strong December, some hotels will have no buffer to ride out the slower months of January and February, which could lead to business distress in the New Year; particularly as the rent moratorium and VAT relief ends in March 2022.'