Our corporate finance specialists in the recruitment sector, Jonathan Wade and Clodagh Tunney, summarise key trends in the M&A market during 2022, together with predictions for 2023.
Overview of activity in 2022
UK deal activity in the recruitment sector continued the post Covid-19 'boom', which began in the second half of 2021. Based on publicly disclosed deals, 2022 was an exceptionally strong year with 76 transactions of UK assets completed, a significant increase from 2021 (58 deals).
The number of transactions completed is typically correlated to the performance of the industry that year. The UK's return to work after a long period of lockdowns and redundancies resulted in strong recruitment sector performance over 2021 and 2022. This performance led to a surge in seller appetite and, despite a weakening in Q4, a return of buyers' confidence in the sector.
Several factors contributed to the impressive number of transactions in 2022. When Covid-19 hit the UK, many recruitment firm owners put plans of expansion via acquisitions, or intentions to sell their business, on hold. As profitable trading returned and, in many cases, accelerated, business owners were able to achieve their strategic value expectations (sometimes ahead of schedule) at a time when investor appetite in the sector – and especially for attractive sub-sectors, such as specialist technology and life sciences – was high.
Q3 was a particularly strong quarter for completions. While inevitably there is a lag in underlying deal activity and completions, the number of Q4 deals, albeit lower than Q3, remained positive.
What is the outlook for 2023?
A relative softening of the M&A market is expected for 2023, especially the first half of the year, as:
(i) wider macro-economic factors signal a slowdown or shallow recession;
(ii) buyers are likely to want to see a period of resilient trading to better assess underlying earnings; and
(iii) the cost of raising debt finance has become more challenging.
However, the market is unlikely to stay still for long. Results from a recent CIPD survey suggest that the net employment balance remains positive and continues to exceed pre-pandemic levels and redundancy intentions, although slightly higher, remain low.
Certain sectors will continue to experience skills shortages, healthcare being the obvious sector, which remains in a recruitment crisis. The resilience of the technology sector is interesting to watch, recruiters have seen a slowdown in recent months and with reports of mass tech layoffs we would expect there to be an increase in labour supply, however corporates continue to invest in technology and are likely to take up much of that supply and the appetite from acquirers already in the sector (especially for niche areas with international reach) remains high.
Smart businesses are now actively planning for their next event. We are already seeing encouraging signs of resilience and assisting a number of businesses on the next stages of their journey towards successful exit. Preparation and packaging your business as a quality asset (including maximising use of data and sell-side due diligence) has never been more important.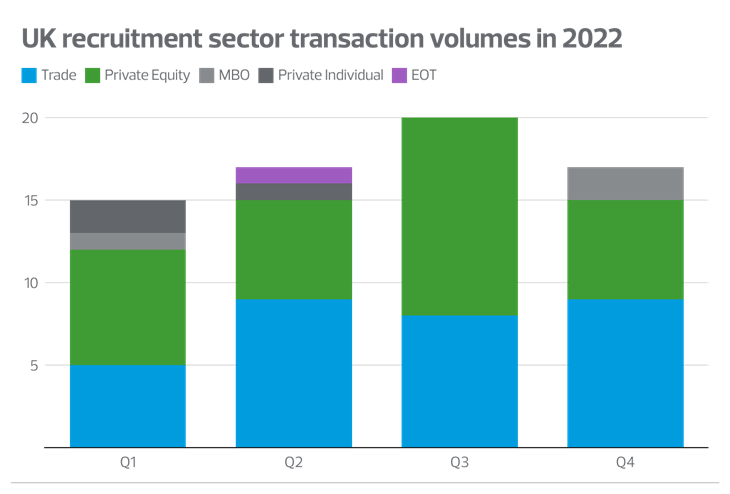 A review of M&A activity in 2022
We take a closer look at M&A deal activity in the recruitment sector during 2022.*
Overview of buyers in the market
The return of buyer confidence in the UK recruitment sector is supported by the sharp uptake in private equity (PE) transactions. Of the 76 deals completed in 2022, 42% (32 deals) where those involving a PE buyer or PE-backed buyer (see further below). This was up from 25% in 2021.
Of the 32 private equity deals completed in 2022, 25%were of acquisitions into recruitment platform/software business, and 19%were of tech recruitment specialists. This reflects private equity's view on the future of the recruitment industry and its desire for its portfolio companies to have a strong digital strategy.
There was also an increase in the number of transactions completed by trade buyers, up 6%to 35 deals in 2022 (33 deals in 2021).
Key trade buyers in recent years have included TES Global, Kingdom Services Group, Staffline, MCG, HR GO Recruitment, and Berry Recruitment. Both Kingdom Services and TES Global each completed two deals in 2022 alone and had completed several more over the three years prior.
The number of debt or non-PE backed MBOs and acquisitions made by private individuals remained relatively low. In 2022 five MBOs completed, a decrease from nine in 2021. Acquisitions by private individuals however increased from two deals completed in 2021 to three in 2022.
We also note increased interest in tax-efficient Employee Ownership Trusts as a potential option, with LHi Group adopting this strategy in 2022.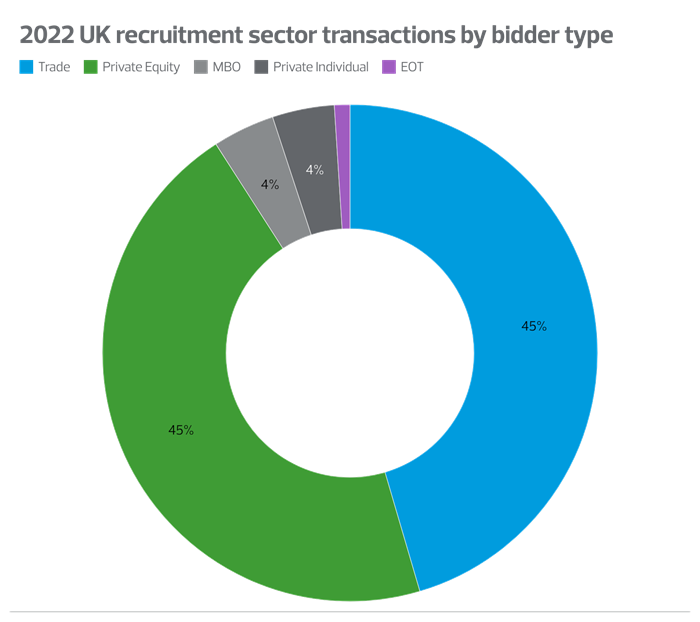 Private equity (PE) buyers in the market
In 2022, of the 32 private equity backed acquisitions of UK recruitment assets, approximately half were 'secondary' bolt-on transactions for existing portfolio companies. Additionally, not included in these stats, there were UK portfolio companies making bolt on acquisitions overseas, such Alcuin-backed Gravitas expanding into Holland.
This is illustrative of a wider theme in the human capital sector generally where 74%of private equity transactions in 2022 were via 'secondary' bolt-ons rather than new, stand-alone 'primary' acquisitions into the industry (see chart below).
This partly reflects the increasing maturity of PE ownership in the sector and its growing footprint.
A good example of this is of Broadlake LLP, an Ireland based private equity firm that made two acquisitions into the UK recruitment market in 2022. MMA Healthcare Recruitment and Rota were both acquired and bolted-on to Broadlake's existing portfolio company, TTM Healthcare.
Other active PE buyers in the UK recruitment market in recent years include (amongst others): Graphite Capital (backers of nGage, Opus Talent and Empowering Learning), LDC, AEA and BGF, as well as specialist recruitment sector investors such as Recruitment Investments, and Twenty20 Capital.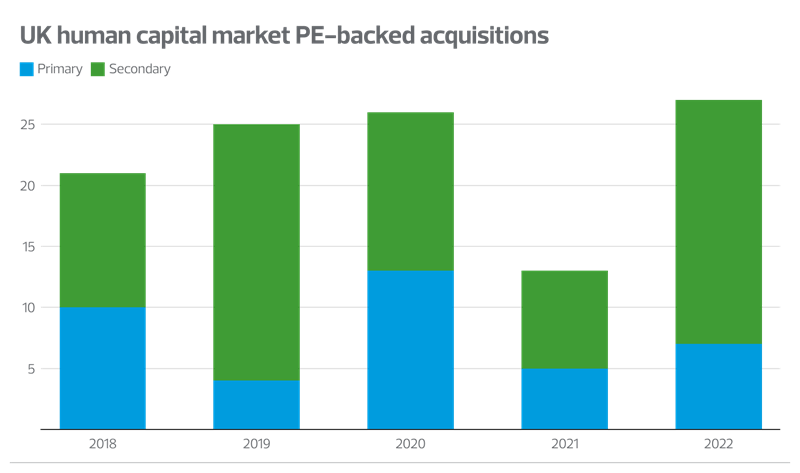 Sub-sector interest
Most transactions by volume typically reflect specific sectors, with niche specialisms being particularly attractive. While there is a degree of subjectivity in categorisation, we summarise key sub-sectors below.
In recent years, there has been strong growth in the number of acquisitions of recruitment platform / software businesses. This reflects the rapid digitalisation of the recruitment industry. We highlight that PE buyers have focused their attention on this subsector, acquiring half of the recruitment platform/software UK targets in 2022.
The healthcare subsector has been one of the most active for acquisitions since Covid-19. Continuing talent shortages, especially in the NHS sector, remains a strong driver.
Tech continues to be a regularly invested subsector, with 11 deals completed in 2022. Of these deals, over half were completed by private equity buyers, again demonstrating the importance of positive underlying growth drivers and a strong digital strategy.
Engineering/construction/industrial targets are of consistent interest to both PE-backed and trade buyers, especially to secure geographical or specialist expansion.
More generally, we are seeing the increased importance of culture, diversity and ESG themes to investors and also as a retention and growth driver in businesses themselves.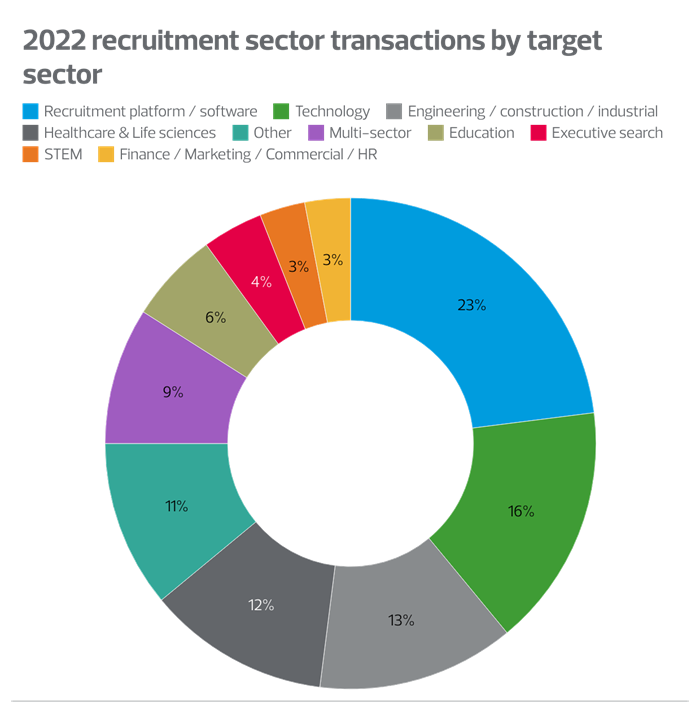 UK versus overseas bidders
The importance of overseas buyers should not be under-estimated. Excluding smaller buyouts, 39%of buyers were either overseas trade (19%) or overseas PE or PE-backed buyers (20%).
Notable examples vary from US private equity Orangewood Partners backing international life science specialist Barrington James, and institutionally-backed Spanish-owned buyer Jobandtalent S.L acquiring Jump Staff Ltd.
Just under half of overseas acquirers were US backed. The remainder is typically spread fairly evenly across Europe, with Singapore and Canada.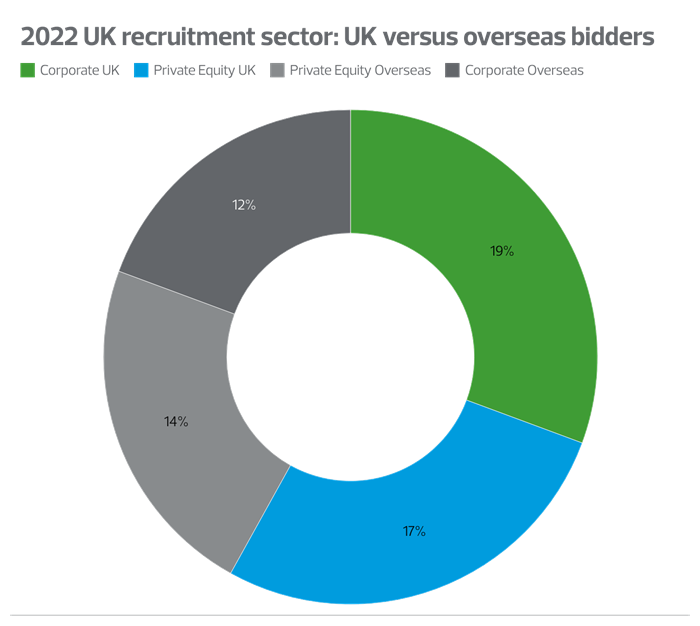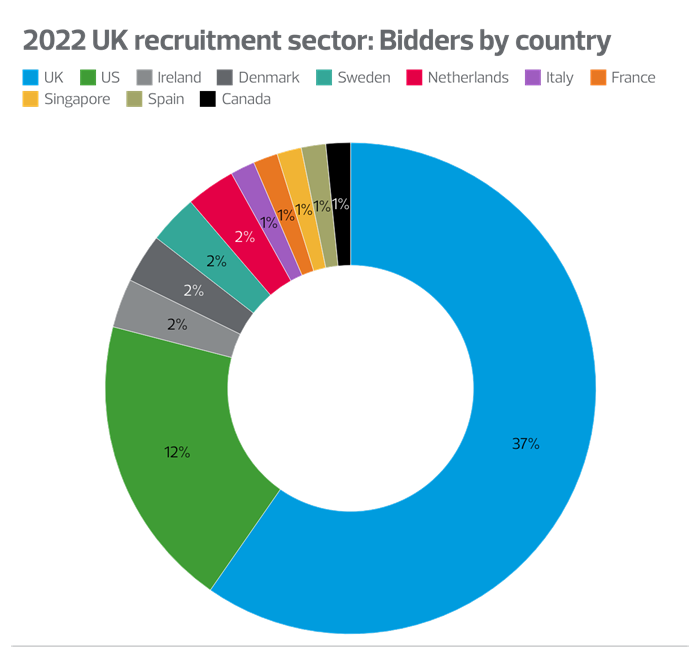 For further information and to discuss how this may impact your recruitment business, please contact Neil Thomas, Jonathan Wade, or Clodagh Tunney.
*Note on basis of preparation
The data presented in this review is based on publicly disclosed, completed deals of UK recruitment/workforce sector assets according to independent M&A deal log provider PitchBook Data Inc and Mergermarket sources (note: data presented has not been reviewed by PitchBook analysts). Inevitably, there is a degree of subjectivity in what's excluded or otherwise (eg HR tech, training, consultancy) and not all deals are disclosed, or not disclosed on a timely basis. Additionally, further transactions relate to UK acquirers expanding overseas. As such, deal statistics should always be regarded as illustrative rather than definitive – but do provide an interesting insight into the direction of travel of the market.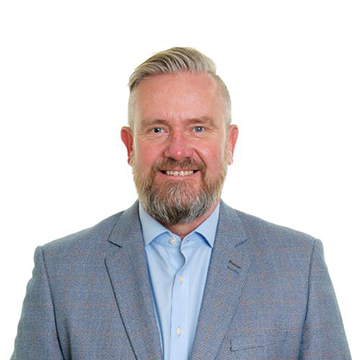 Neil  Thomas
Partner, Head of Recruitment Sector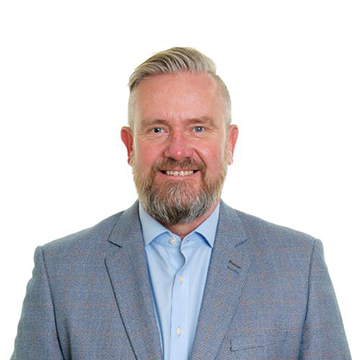 Neil  Thomas
Partner, Head of Recruitment Sector