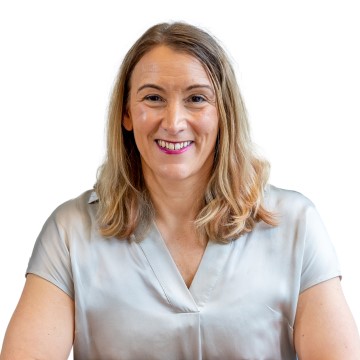 Kirsty Sandwell
Head of Consulting
Biography
Kirsty Sandwell is head of consulting at RSM UK.
She joined RSM in 2001 as part of the firm's new merger and acquisition (M&A) team. She made partner in 2005 and became head of corporate finance for our southern region in 2012. Kirsty then led our national M&A offering before becoming head of transactions and joining our National Leadership Team in April 2020.
In 2023, Kirsty was tasked with bringing together RSM's diverse advisory offering into its newly formed consulting division. The team spans our six core client solutions:
business transformation;
forensic, investigations and disputes;
deal services;
restructuring;
finance function support; and
risk and governance.
Outside of work, Kirsty is a keen golfer, yogi and servant to her lockdown pups, Rey and Solo. She is also a science fiction and fantasy geek. Kirsty is passionate about equality of opportunity and inclusion and is proud of securing RSM's backing for the European Disabled Golf Association, an organisation she became involved with as a caddy for her best friend, who was diagnosed with multiple sclerosis, 15 years ago.
Kirsty's RSM timeline:
2023: became head of consulting and created the Consulting Leadership Team
2020: became head of transactions and joined the National Leadership Team
2019: became national head of M&A
2013: became office managing partner for Gatwick
2012: became head of corporate finance for the RSM's southern region
2005: became partner
2001: joined as a manager in the newly formed lead advisory business