Leading audit, tax and consulting firm RSM UK has received the Outstanding Contribution Award at the 2023 Anthony Nolan Support Awards (ANSAs). Anthony Nolan is a charity that matches potential stem cell donors to patients with blood cancer and blood disorders and carries out pioneering research to increase the success of stem cell transplants.

Working with the firm's charitable foundation, the RSM UK Foundation, it has provided support to Anthony Nolan since 2010 and raised over £1.7m through various fundraising efforts. RSM funds patient grants for people undergoing stem cell transplants with limited savings and supports the charity's volunteer courier programme, which involves a team of 65 volunteer couriers to transport stem cells from a donor to patient. The firm is also a founding supporter of the charity's education project, The Hero Project, which educates people aged between 16-18 about the importance of joining the bone marrow register.

As of December 2022, the RSM UK Foundation has funded over 1,423 grants to support patients before, during and after a stem cell transplant and helped facilitate over 7,741 lifesaving trips of stem cells all over the world.

Nick Sladden, partner and chair of trustees for the RSM UK Foundation, said: 'We are honoured to receive the Outstanding Contributor Award from Anthony Nolan. The work they do is lifechanging, so to be able to work together and make a real difference is extremely rewarding. As a firm, we are proud to support the charity – it's been great to see our employees get involved and we would encourage people to sign up, as by doing so, they could be a match for someone in search of a stem cell donor.'

RSM also raises awareness of patient appeals – including providing a £50,000 donation to the Azaylia Cain appeal and more recently, holding a recruitment event in the firm's Reading office to encourage potential donors to come forward for local boxing star Reuben Muston.

The annual ANSAs ceremony which began in 2013, took place on 14 June at the Tower of London, and was the first in-person awards since being held virtually in 2019 due to the pandemic.

Henny Braund, chief executive of Anthony Nolan, comments: 'RSM UK is a hugely deserving winner of this award; its incredible support and passion for our work is a fantastic example of our charity, which is built on making lifesaving connections. It's been an amazing partnership and I continue to find myself inspired and humbled by the dedication and strength of supporters like these.

'By raising vital funds and much needed awareness, we are curing blood cancer together. We can give families hope and give more people a future.'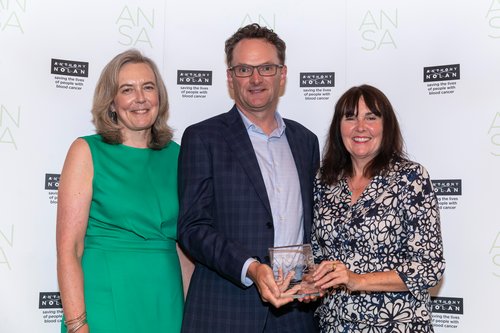 People from left to right, are: Henny Braund, (chief executive of Anthony Nolan), Nick Sladden (chair of trustees for the RSM UK Foundation) and Joy Welch (trustee of the RSM UK Foundation).
Nick  Sladden
Partner, Head of Charities and Independent Schools
Nick  Sladden
Partner, Head of Charities and Independent Schools