6 December 2023
Middle market resilient amid tough end to the year as MMBI falls to 141.5
Economic conditions in the middle market have tampered off but the real economy is still showing resilience and is optimistic about the start of 2024.
Inflation pressures are easing, as input costs and output prices both declined in Q4. The labour market is also loosening, with fewer firms hiring more people.
Investment intentions are strong, despite high interest rates and tough economic conditions. Middle market firms are confident in their growth prospects and are willing to invest in their future.
RSM UK Middle Market Business Index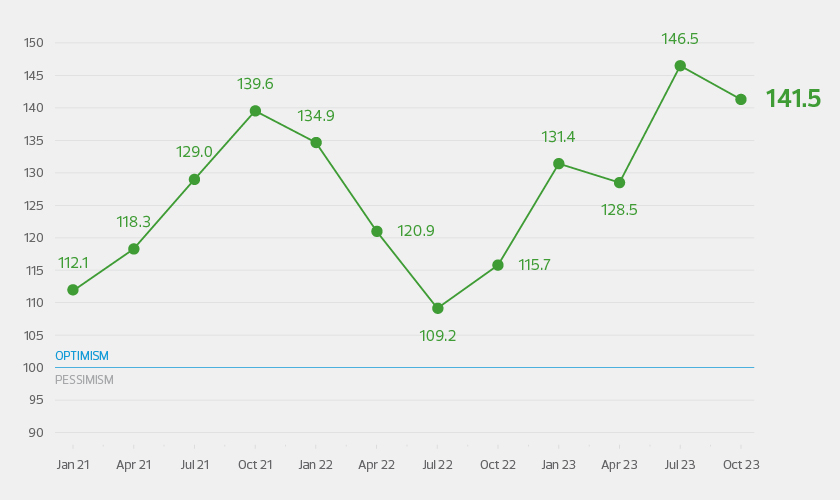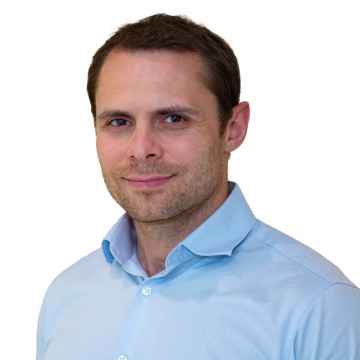 Our Q4 MMBI results show that the real economy continues to demonstrate resilience, despite worsening economic conditions. But clear signs of easing prices pressures mean that middle market firms are optimistic about next year and, despite the higher interest rates, are investing in the futures with productivity enhancing technology.
Has the long-awaited recession finally arrived? This question has jumped to the top of the list of concerns for both businesses and households.

Afterall, the Q3 contraction in GDP means the chances the UK has finally fallen into the long forecast recession are at their highest since Russia's invasion of Ukraine. However, the real economy, a key source of growth for the UK economy, appears resilient. The retrenchment in Q3 is therefore likely a blip, rather than the start of a recession.

Granted, the Middle Market Business Index (MMBI) has taken a dip, sliding to 141.5. It's evident that business conditions remained challenging in Q4, with many middle market enterprises grappling with a weakened economy, sluggish profit growth and restrained hiring. But the MMBI is still well over the 100 level, which theoretically marks whether the real economy is contracting or expanding. So, although not quite as strong as last quarter, activity in the middle market remains robust.

In any case, the dark clouds of economic contraction are expected to clear soon. A majority of middle market businesses anticipate a broad upswing in activity in the first half of 2024. This optimism lends weight to the idea that the Q3 economic contraction may not evolve into a full-blown recession.
Tom Pugh and Simon Hart discuss the latest MMBI findings and share their optimism for 2024.
Economic performance

Prices

Labour

Capital expenditure
Economic performance
Tough end to the year but hope for 2024
The middle market experienced a significant decline in economic conditions in Q4. The net share of firms (those reporting improvement minus those reporting deterioration) that said the economy improved in Q4 dropped, from 21% to 8%. Unsurprisingly, this was mirrored in a slower growth of revenue and a more rapid slowdown of profit.
This matches the general decline witnessed in the broader economy. However, the fall in the MMBI indicates a slower pace of growth, not an outright contraction. That should ease concerns that the Q3 drop in GDP will lead to a recession, and we anticipate a return to growth in Q4.
While Q4 may not be as strong as expected, any economic slump should be short-lived. The net improvement scores for Q4 have declined, indicating a lower growth rate in late 2023, but the expectations for the economy, revenue and profitability in the first half of 2024 have improved.
Admittedly, the UK economy will have to walk a tightrope next year. The impact of the huge surge in interest rates and a significant reduction in government spending will weigh heavily on growth. Our expectations for 2024 point to a modest growth of just 0.5% and while this projection suggests that the UK will dodge a recession, it underscores the fragility of the economic outlook. Even a minor downturn could tip the scales into recession territory, and it may not be until 2025 that the economy regains substantial momentum.
Prices
Price pressures easing
When Rishi Sunak made his pledge to half inflation by the end of the year it was running at 10.6%. We think it will end the year between 4.5% and 5%, a possible win for the Prime Minister.
The net proportion of firms saying they were paying more for their inputs dropped to 54% in Q4, its lowest level in more than a year. At the same time, the prices middle market firms are able to charge to their clients slumped from 39% to 24%.
What's more, on net middle market businesses expect prices to rise more slowly in the first half of next year. That chimes with our forecast that inflation will fall to around 2.5% by the second half of next year, where it will probably hover for the rest of 2024.
While that suggests middle market firms are finding it harder to pass on price rises, it will be music to the ears on the MPC, justifying the MPC's decision to keep interest rates at 5.25%. Attention will now turn to when interest rates will be cut, which likely won't be until Q3 2024. And even then cuts will be gradual.
However, the looming risks cannot be ignored. If energy prices were to spike, which is not unlikely due to geopolitical events, it could impede the decline of inflation or potentially cause it to rise once more. In such a scenario, central banks across the globe might find themselves compelled to revisit interest rate hikes.
Labour
Loosening labour market not yet reflected in pay growth
Recent easing in the labour market looks set to continue next year, with the unemployment rate predicted to reach 5% by the end of 2024. Indeed, middle market firms significantly slowed the pace of hiring in Q4 with the net proportion of firms saying they hired more people dropping to just 22%, down from 40%.
Undoubtedly, the labour market has undergone a notable shift recently. The unemployment rate has risen to 4.2%, from 3.7% at the start of the year, and vacancy numbers have dropped below one million for the first time since January 2021. Nevertheless, considering the prolonged economic challenges, the labour market remains relatively tight by historical standards.
The middle market expects hiring to pick up next year, with a net of 69% of firms saying they will be hiring. But that will be offset by an improvement in labour supply as the impact of the cost-of-living crisis and increasing real wages tempt more people back into the labour force. As a result, we expect the unemployment rate to gradually rise from the 4.2% it is currently to 5% by the end of 2024.
The loosening in the labour market has so far not been reflected in a significant reduction in wage growth, a net of 40% of middle market firms increased pay in Q4. But it is probably just a matter of time before pay growth slows sharply. As the labour market continues to loosen we expect wage growth to slow from around 8.1% currently to about 3% by the end of next year. But pay growth should remain above inflation for the whole of next year, meaning that real wages will continue to improve, which will help to support consumption and prevent the UK falling into a recession.
Capital expenditure
Higher interest rates not hampering investment
The huge interest rate rises over the last two years doesn't seem to have dented middle market firm's investment intentions, so far at least. Admittedly, the net proportion of firms that invested more in Q4 dropped from 41% to 31%. But this is still far above the two-year average of 21%. Similarly, the net proportion of firms saying it was harder to access credit dropped to -3% in Q4 from 9% in Q3, but this is still slightly above it's two-year average.
Now that interest rates have almost certainly peaked at 5.25%, and will probably remain there until Q3 2024, access to credit and investment intentions should start to improve. The net proportion of firms intending to invest more over the next six months rose to 69%, the highest result on our records. Much of this investment will probably be financed by additional borrowing, as a net 49% of businesses said they intended to borrow more. But some businesses are also using cash reserves built up during the pandemic to finance investment. This surge in productivity enhancing investments is encouraging news given the UK is lagging far behind peer nations, which is a key explanation for why the UK is relatively so unproductive. Solving the productivity crisis would go a long way in helping solve the other pressing problems facing the UK, from the net-zero transition to NHS waitlists.
The firms that continue to invest will be best positioned to take advantage of the upturn in the economy when it arrives in late 2024. What's more, labour will remain at a premium, both in the short term, where the labour supply is being held back by high levels of sickness, and in the longer-term, where demographic challenges will lead to a sharp slowdown in labour force growth. As a result, businesses wishing to expand their output will need to focus on upskilling their existing workforce and automating processes and functions, rather than hiring more employees.