Over the last 50 years, UK retailers have committed to complex global supply chains that allow for goods to be sourced, manufactured and shipped cheaply. The resulting gain on margins made it inevitable that these extended supply chains would become the norm. Yet a recent barrage of seismic events – Brexit, the coronavirus pandemic and the war in Ukraine – mean that this way of operating is not as profitable or reliable as it once was.
The challenges retailers face
Businesses in 2022 are operating in a volatile geopolitical environment. Increasing numbers of retailers cite supply chain woes as the main factor in delaying core promotional events, cutting revenue forecasts and indeed pushing some retailers over the edge. In June, Harrods delayed its famous summer sale because its new season stock was yet to arrive, and German retailer Zalando is the latest online fashion retailer to issue a profit warning and note current inflationary and supply chain pressures as the key driver.
Rampant global inflation and volatile crude oil prices are the bedrock of the current crisis resulting in rapid rises in key input costs including raw materials and shipping. These issues have only been intensified by the recent coronavirus lockdowns in China.
As the largest textile producer and exporting country in the world, China's factory production fell by 2.9 per cent from a year earlier in April, the largest decline since February 2020. This was as a direct result of localised lockdowns. Buffeting these already challenging operating conditions for retailers, raw materials such as cotton have risen sharply in 2022 and the average cost to ship from China to Europe increased 51 per cent between January 2021 and June 2022.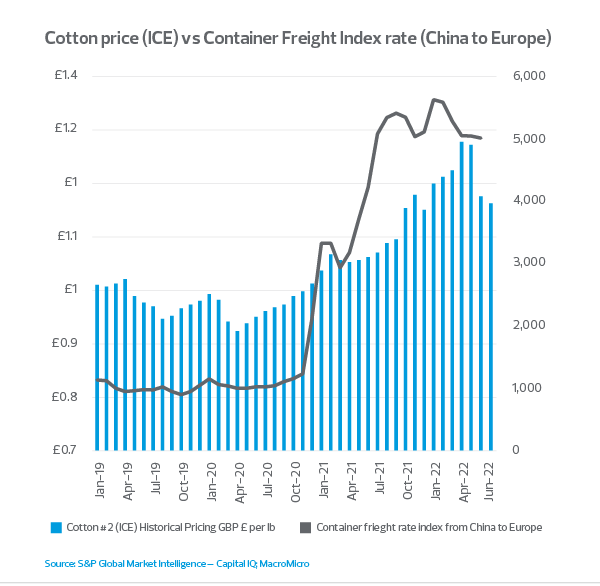 The end of fast fashion?
For those retailers at the lower end of the market, the current environment will feel unsustainable. Fast fashion businesses, in particular, have felt the pain. In May, Missguided called in administrators when it buckled under the weight of supply chain challenges and increasing inflation.
With business models built on low costs and tight margins, fast-fashion retailers turn product around quickly, aiming to sell high volume at very low prices. Their survival will be a challenge when most retailers are factoring in a minimum three-week delay to delivery – and that's an optimistic estimate. Not to mention the inability to pass these soaring costs on to their customers, who are looking for great value.
What does this mean for consumers?
GfK's Consumer Confidence Index remains consistently subdued, with June and July's readings recording record lows of minus 41. The lowest level since records began in 2005. This could be just the start of a difficult time for consumers, especially in the face of a cost-of-living crisis driven by rising accommodation, energy and food prices.
The latest ONS retail sales data indicates that for the three months to June sales volumes over the period fell by 5.5 per cent, and sales values rose by 4.4 per cent when compared with a year earlier. This indicates an annual implied deflator (or implied growth in prices) of 9.9 per cent, underlining a lack of consumer spending confidence.
Consumers are feeling the pinch, so it's inevitable that discretionary spending will take a hit. Retailers will need to be on their metal to capture market share as we roll into the second half of 2022 and beyond.
Five key findings from our latest Real Economy topical survey on global supply chains
RSM recently surveyed over 400 middle market business leaders, including those in retail, on their supply chains. Our findings showed significant disruption at every major link in the supply chain.
The top 5 issues for supply chain disruptions were:
1. Delays with orders (48%)
2. Increased costs (46%)
3. Missed deadlines (37%)
4. Unfulfilled orders (35%)
5. Poor communication (34%)
63 per cent of businesses that experienced negative effects due to upstream supply chain issues saw this carry through to their customers. Around half of these had to delay customer orders, and 43 per cent had to increase prices.
In an environment where customer is king, retailers can little afford this kind of disruption. A quarter of those who had experienced upstream supply chain issues believed their reputation deteriorated and 38 per cent experienced a decline in overall customer satisfaction.
Eventually, it all comes down to the bottom line. Unanticipated supply chain issues led to 44 per cent of our respondents experiencing a significant increase in operating costs, and 42 per cent saw a reduction in profitability.
Top 5 practical steps for retailers
1. Have end-to-end visibility
Many retail supply chains are tracked and governed through multiple – and often disconnected – data systems. Retailers must embrace technology that offers a single view of their supply chain, and that allows teams to collaborate across functions.
A single data funnel can accelerate response times. Teams will be able to reduce bottle necks by navigating, identifying, and solving problems quickly.
2. Reduce risk through multiple suppliers
Volume discounts used to make committing to one supplier an attractive prospect. But now a single-supplier approach can cause an entire supply chain to break. Having multiple suppliers mitigates the risk of capacity constraints and allows retailers to augment capacity as consumer demand fluctuates.
3. Dynamic inventory management
Your business is rich in data. Make sure you harness forecasting tools, customer demand signals and information from primary suppliers to manage inventory intelligently. Holding a buffer will become the norm, but overstocking also exposes retailers to losses as consumers continue to feel the cost-of-living crisis.
4. Diffuse leadership models
Traditional hierarchical leadership can lead to delays in decision making. Problems are referred upward until the situation is critical. When supply chains are disrupted, long chains of command may mean missed opportunities. Matrix management and decision-making authority at multiple levels in the organisation can counteract these delays, and keep operations running efficiently.
5. Sustainable buying and planning
Collaboration across the supply chain; merchandising; planning; and buying functions will be key to securing the right assortment of products with minimal disruption.
Is technology the future of retail supply chains?
In January, Ocado Technology unveiled seven game-changing innovations to bring down operating costs, and to drive more speed and efficiency into last-mile delivery.
Case Study: Ocado Re:Imagined – the next leap in innovation
Ocado Smart Platform (Ocado Re:Imagined) is a suite of solutions for operations in online grocery businesses. Ocado set out to provide its partners with three key solutions:
1. meet the full range of customer missions faster and with lower operating costs;
2. enable short lead time deliveries for a larger proportion of sales; and
3. drive faster speed to market and faster ramp.
Innovations include automated bots that are ultra-energy efficient, and five times lighter than previous designs (more than half of their parts are 3D printed). The new bot design is more versatile and allows Ocado to build lighter grids that can be retrofitted into existing space, rather than building new Customer Fulfilment Centres (CFCs), which saves time and costs.
Supply chain efficiency is gained by robotic picking arms that sit directly on top of the grid, and there is an automated frameload to lower labour costs and increase productivity. Routing is another key focus. Ocado Orbit creates a 'virtual distribution centre,' allowing smaller fulfilment centres to split product ranges and work together in an ecosystem powered by AI and machine learning.
A Swift Router system enables smart order prioritisation, allowing last minute, short lead-time orders to be prioritised and processed alongside regular orders and delivered by the same van.
Additionally, Ocado is investing in autonomous vehicles with its £10m multi-year collaboration with Oxbotica.
What can we learn from Ocado?
Widespread adoption of robotics outside of the likes of Ocado and the behemoth retailers, such as Amazon, still feels somewhat unattainable across the full spectrum of retail. But these technologies are advancing quickly and there's no doubt we'll see them become more attainable in years to come. In the meantime, retailers can employ tech in other ways to achieve the same aims as Ocado; strengthening their go-to-market strategy and improving profitability.
Integrated data analytics platforms are where retailers can gain the most value from tech adoption in their supply chain. These platforms give end-to-end insight through supply chain, merchandising, planning, and buying functions. Employing a single digital control tower creates a shared fact sheet that allows for streamlined decision making, saving valuable time in the process.
Meanwhile, investment in warehouse automation offers a range of benefits, from increased productivity, reduced labour risks, and mitigates the risk of lost sales from out-of-stock items.
The key to employing these technologies will be for retailers to take a leaf out of Ocado's book and have a clear vision for what they want to achieve. They can then draw this down into objectives, mission statements and implementation strategy.
Learn more about the results from our latest Real Economy report on Global Supply Chains.