The manufacturing sector has long been a critical driver for UK innovation, with its agility and adaptability to new technologies.
Make UK, the sector's principal membership body, estimates that the industry contributes 41% of the UK's R&D efforts. It's unquestionable then, in the face of the latest technological revolution introduced by generative AI, the industry is best placed to take advantage and use it as a tool to accelerate innovation and growth.
However, our latest survey of 150 manufacturers, run in partnership with Make UK, illustrates that the path to industry-wide adoption of generative AI is far from clear, with both infrastructure and regulatory challenges still to be overcome.
Before we examine these challenges in detail, let's first explore how generative AI can accelerate innovation within manufacturing.
For R&D, it is likely to dramatically increase the speed of activity, in addition to revolutionising each stage of the innovation lifecycle, for both process and product design.
Generative AI innovation lifecycle
Generative AI poses fundamental disruption to the traditional innovation cycle, creating opportunity for new innovations through unconventional designs and enabling a rate of change unseen in industrial history.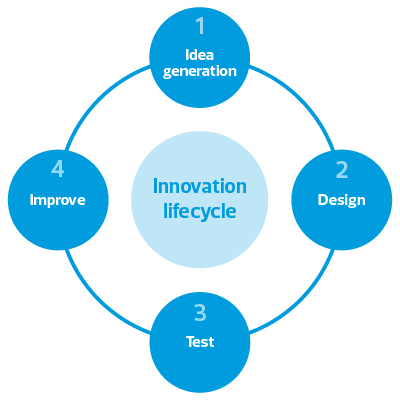 Idea generation
At the very start of the innovation lifecycle, generative AI can be used to enable data-driven idea generation. Through analysis of customer feedback, product performance, and sales and industry data, generative AI can identify new trends in the market and provide in-depth insight into customer demands, product performance and market gaps. This helps identify novel new concepts that meet the needs of previously unidentified consumer demands as well as generating ideas to best manage other competing priorities, including ESG, cost pressures, manufacturing capacity and supply chain challenges.
A good example of this is Tastewise, a generative AI powered platform for the food and drink industry, which enables companies to extract data and insight to their specific needs in relation to consumer insights and foodservice execution.
Design
Generative AI tools can disrupt the traditional engineering design process to offer significant innovation and efficiency improvements. By analysing large data sets, material specifications, structural properties, energy demand and process data, generative AI can develop an array of new design concepts beyond the capability of a human engineer. But its power lies not solely in boosting the volume of outputs. The technology can also generate across multiple specifications, such as waste reduction, energy usage, cost and performance enhancement. The output of this process could be novel concepts beyond the human imagination, eliminating traditional constraints by enabling design teams to assess a vast selection of design options.
Toyota Research Institute is leading the path in such generative AI application, with the development of a new technique which integrates initial design sketches and engineering constraints into text-to-image generative AI tools, with the potential to reduce the number of iterations needed to reconcile design more quickly and efficiently.
Testing
Through the analysis of testing data, generative AI can deduce connections, trends and weaknesses potentially overlooked by human analysis. This has the potential to enhance the speed of the innovation lifecycle by highlighting potential issues at an early stage, enabling engineers to target their continuous improvement activity, in turn optimising product and process performance.
Improve
By delivering advanced analytics on performance criteria, customer feedback, testing and data quality, generative AI can identify areas for improvement in designs. The technology can also highlight weaknesses in consumer demand. By encouraging continuous improvement, generative AI will contribute to a streamlined innovation lifecycle, ultimately increasing the return on investment.
What manufacturers need to harness the power of Generative AI
To fully harness the power of generative AI, we must thoroughly consider the associated risk of the technology and acknowledge the potential upfront investment required.
We outline the two key areas which middle market businesses should consider below:
Infrastructure
The success of generative AI integration within the manufacturing sector is wholly dependent on the availability and accuracy of data and supporting infrastructure. Achieving the full potential of generative AI integration within the production environment will require significant investment, including control and systems integration, real time sensors, digital twinning, and data management. Only some of this is within the control of manufacturers themselves, because all of these systems will need to be supported by a robust digital infrastructure.
With this in mind, in our joint report with Make UK, only 44% of manufacturers rated the UK's broadband infrastructure as good or very good, and 5G investment was the top infrastructure investment priority for the majority of businesses. It is clear this is an area which needs signficant attention from the UK Government to enable the widespread integration of the supporting technology within middle market businesses.
Regulation and risk management
The potential for generative AI to produce inaccurate and misleading outputs has been well reported. And with the significant volume of data involved, there is additional cyber security and data protection issues to be considered. Transparency and auditing of generative AI systems will be in the self-interest of businesses. However, manufacturers also recognise that regulation has an important role to play to ensure ethical standards are maintained for industry and society as a whole, with 75% of manufacturers in our joint report with Make UK want greater regulation on Generative AI. Given the complexities at play, any regulatory framework will need the input of global government, professional institutions and industry.
Generative AI has the potential to revolutionise every stage of the innovation lifecycle. But middle market business must appropriately plan the upfront investment necessary to ensure its safe and optimal applications. Meanwhile the government can support with investment in the right areas of national infrastructure and working with industry to ensure an effective, business friendly regulatory environment.
If you would like to discuss any of the topics discussed in this article, please contact Rachel Milloy.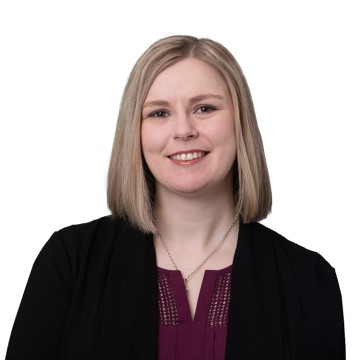 Rachel Milloy
Associate Director, Industrials Senior Analyst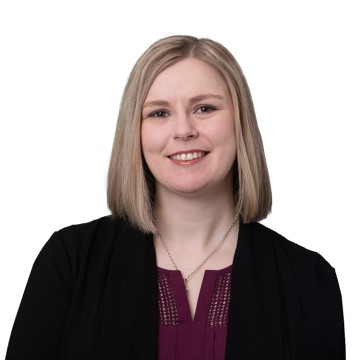 Rachel Milloy
Associate Director, Industrials Senior Analyst